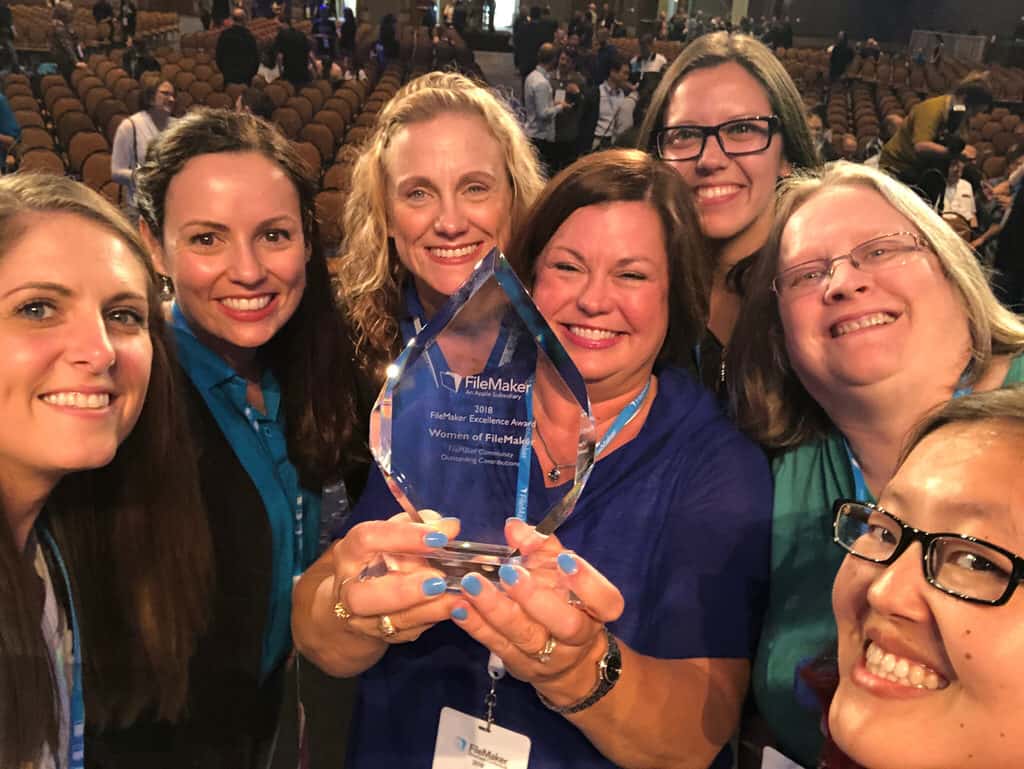 The FileMaker® Developer Conference (FileMaker DevCon) for 2018 is in the books. Here are the highlights from my attendee and speaker perspective.
Operation FileMaker®: From Risk to Perfection
Martha Zink of Soliant Consulting and I presented a joint session on project management in the form of a FileMaker game. We navigated the FileMaker River, from status meeting to status meeting square, as the attendees shouted "WIC-WIN-WAB". That magic phrase represented the typical questions in a status meeting or scrum:
What is complete?

What is next?

What's a blocker?
When a "rough waters" icon showed up, the attendees "rolled" the die (a big, blow-up die that could be bounced around like a beach ball). We drew the card reflecting the number from the die. That card presented a problem to either the tech lead (Martha) or the project manager (me). In order to continue, we had to solve the issue. And, then, we moved to the next status meeting square.
For each presented issue, we discussed potential "holes in the boat". These are things that could result in long-term issues during the project or with the client. We also walked through how to prevent it from happening again. Plus, we solved it for the moment.
Our slides have been posted, along with the FileMaker game itself, in the FileMaker community. (If you are not a member, you can access the slides here.) And, yes, the game includes the "answers" to all possible questions. Lastly, the video is posted on YouTube.
Women of FileMaker
As the Lead Facilitator for Women of FileMaker, I was honored to accept the FileMaker Community Outstanding Contributions award on behalf of this group that worked so hard this past year to expand our group from "Women Who Lunch" to "Women Who Serve the Community".
Committee Leads
Elizabeth Swenson, the scholarship committee lead, identified four first-time female attendees who received DevCon scholarships. Josie Graham, lead the fundraising committee. Our donation site was open for 4 days before we had enough for the scholarships! To the many donors, THANK YOU! We appreciate your generosity tremendously.
Makah Encarnacao led two of the initiatives that served the entire community (male and female) with DevCon Buddy and our mentorship initiative. Additionally, she created flyers for registration and the booth, spreading our mission.
Laramie Erickson coordinated our booth efforts, ensuring it had a banner, a monitor to run a slide show, and was staffed throughout the conference. Elizabeth also built a FileMaker Go app that was used at the booth to help acquire pledge donations and sign up mentors and mentees. 
Lisette Wilson, along with Martha Zink, coordinated PauseOnError, where we increased the women to men ratio tremendously. I wrote about the successes at that event in a previous post. 
Vanessa Costanzo arranged the FileMaker DevCon women's annual luncheon. She laid out the printed program, coordinated with FileMaker, Inc., to plan it, and set up the overall program. We played a networking bingo game that she created as well. 
Laura Betz did an amazing job getting the word out via social media. She posted regularly and without fail on our Facebook page, LinkedIn group and the FileMaker community page. She also shared information on her personal Twitter page. The rest of us retweeted using our #womenoffilemaker hashtag. Thanks also to Paula Sanchez-Marquise who was our marketing lead throughout the year.
And, a huge shoutout to Brenda Cimbura and LuminFire for setting up and hosting our website.
Special Thanks
Special thanks to FileMaker, Inc., for its incredible support, especially Julie Sigfrinius, Rosemary Tietge and Shari Martinez. They went above and beyond to support us in our endeavors.
Lastly, a huge thanks to Molly Connolly. As the former lead facilitator, she put us on this push several years ago. She handed the reins over to me with an amazing team already in place. So, the job of leading was very easy.
I took the trophy home. But, we might have it go on a tour, sorta like Lord Stanley's Cup. Our outstanding teamwork garnered the award.
FileMaker DevCon Community
It's impossible to talk about FileMaker DevCon without reference to the real, live FileMaker community. I learn and network in the lobby bar more than I do at other events specially designed for networking. Having so many brilliant people to chat with is inspiring. Everywhere you go, you see an old friend. This was my 5th DevCon and my 8th year working in the space.
Games as big as Texas (oversized Cornhole, Foosball and more), line dancing (with instructors) and a great band highlighted the Attendee Dinner party. I finally introduced my husband to some of my colleagues. Since we live in the Dallas area, he joined me for that evening's event.
The Proof Group sponsored a great party to end the conference. Proof was spreading the word about its TeamUp initiative. And, the party's success was a wonderful way to close everything out.
Sale Reminder
Just a reminder that our Basecamp and Teamwork.com Project Management Templates for FileMaker Developers are half price through the end of August in honor of FileMaker DevCon. Be sure to take advantage of the offer to improve the quality and consistency of your project management.
Next year's FileMaker DevCon is in Orlando at the Gaylord Palms Resort, August 5-8, 2019. And,  I'm already looking forward to it.