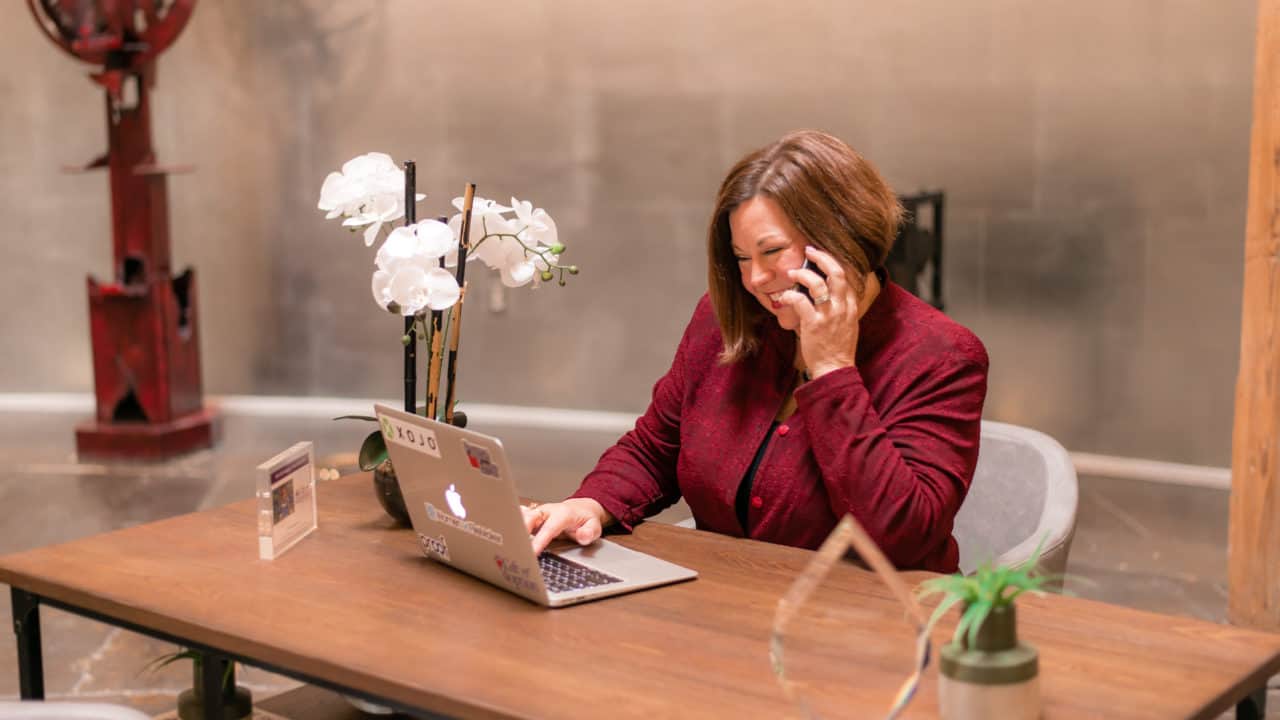 Beyond the Chaos helps you gain control of your business through project management, process development, organization, and structure of your business operations. From developing processes to coaching project managers to setting up work-from-home environments to eliminating paper, Beyond the Chaos can help you feel less overwhelmed, more effective, and quite productive at the end of your day.
The techniques are not textbook ideas to follow. Susan is required in the process because it's her understanding and judgment calls about my business that made all the difference. You can't ask a template, "What about this scenario?" But you can ask Susan! It's her insight that brings everything to life with real-world scenarios and experience. At first, I was thankful just to be getting some help. Then I was excited to see that this wasn't something simple I could have just Googled and done for myself. There was serious value here.

Brad Stanford, Owner Two Story Systems, LLC

Serious value here

Project Management Template for FileMaker Developers

Basecamp® is a lot more organized and easy to follow now, and as a result, I'm using it a lot more than I was before. Laura's help with following up on ongoing projects has freed up some of my time and made it easier to track progress. Having Laura in our weekly meetings is extremely helpful in keeping track of everything that needs to get done, and her meeting minutes are a very useful record of what we discuss. Keeping our Basecamp projects organized has helped me keep everything I need to see visible while allowing us to store ideas for the future in a separate project where they're accessible but not in the way. It's been very helpful to have an outside perspective on how to best organize our projects.

Caitlin Nascher, Director of Sales and Marketing
aACE Software

My time is freed up

Project Management Service

In some ways, we didn't know what we were missing until Laura brought more process, organization, and accountability to the team. Project management might seem like something a generalist can handle, but with a professional like Laura, it's a whole different game — kind of like Little League compared to pro baseball. Many thanks to Laura and Susan for lifting us up!

Randy Isaacson, President
Stori Health Inc.

We didn't know what we were missing

Project Management Service

Susan was fantastic with our team.  We are a small software company who had a complicated tangle of systems and an out of control ticket backlog at the start of the project and within a few months were working smoothly and well with 100% compliance to our SLAs.  All this via a (surprisingly) very fun project with a consultant who is proactive, flexible, thoughtful and an absolute pleasure to work with. 

Stacy Chapman, CEO SwoopTalent

100% compliance to our SLAs

Teamwork & Operations Consulting

It was a lot of emotional and personal information that I employed Susan to help me untangle. It was something that needed to be done for six years. RELIEF! It's over! We did it! She was amazingly productive, proactive (of possible pitfalls), and just having her by my side provided solace. In the end, we got three days worth of work done in 24-hours. I'm so grateful it's done and over!! She also motivated me when I just didn't want to continue; that was invaluable. I was super happy she left me with an assignment after she left. She is supportive, thorough and really a joy to work alongside, rather than trying to tackle it alone.

Melanie W.
Houston, TX

Relief! We did it!

Disorganized Environment Improvements

I have worked with Susan several times on projects that I can't seem to tackle on my own, and I am always pleased with how much we get accomplished. She is great to work with, pleasant and efficient, and she effectively keeps me on task. She gives tips and asks questions regarding what I need to keep, why, and where it should go if I do keep it. Plus, she doesn't make my decisions for me, but rather gives me the tools to make better decisions in the future.

Kim M.
Frisco, TX

Gives me the tools to make better decisions

Disorganized Environment Improvements

Before coaching with Susan, I was highly anxious and constantly frustrated. Now I'm feeling reduced stress and increased confidence in communication, plus hope for a more prosperous business! While it's still a work in progress, both the clients and I have noticed a big difference. Susan has a great combination of charm and frankness. She tells the hard truth but with a smile. Plus this stuff really works!!!

Sam Gedert, Founder
Action Factory

This stuff really works!!!

Chief Operating Officer Consulting

Susan's phenomenal. She is really, really, really good as a project manager. One of the best I've ever worked with – no joke. She's very smart, sassy, a bulldog and doesn't suffer fools. She's very organized, fair, and is fanatical about meeting deadlines.

Amy Africa, CEO
Eight by Eight, LLC

One of the best I've ever worked with

Project Management Service

I have so much more confidence in what I am doing. I try to utilize all the different tools and features that I learned, so I really feel like I am using what we pay for. Susan truly helped me learn a new skill with a platform that so many different people use. Because of that, I am a better worker and feel like I am doing my job more effectively.

Ramona D'Cruz, Media Assistant Geraci Media

More confidence

Teamwork Projects Training

Before engaging Susan to document our processes, we were relying on the Vulcan Mind Meld. Needless to say, it wasn't very effective. I have peace of mind knowing that all of the steps have been handled. I can easily train a replacement. Susan added some steps that we didn't consider. Susan practices what she preaches. Since we all cannot have her on our day-to-day team, the next best thing is to have her procedures because they guide our day-to-day activities as though she were with us.

Jeanette Tan, Owner
QB Winery Solutions

Peace of mind

Process Creation

My day-to-day process of checking up on everything with everyone is gone. Processes are improved with my being out of the way; clients have a single point of contact to make sure things are moving along and can have questions answered. I am involved when it is important. Both Susan and Laura add value to the business. They do this by being fun and professional at the same time. Both set clear expectations with clients and push to make things happen. They align with our business goals and offer suggestions and feedback for improvement. Very grateful to have both Susan and Laura as part of my team. They've kept me sane.

Joe Scarpetta, CEO / Owner
The Scarpetta Group, Inc.

I am only involved when it is important

Project Management Service

I am confident in describing Susan as genuine, competent, relatable, encouraging, and steadfast. Her knowledge of systems and processes is top notch, and her dedication to a killer, quality final product is resolute. She has the ability to be flat-out honest in her assessments, with a witty sense of humor, while never leaving you to flounder alone in tumultuous waters. She provides an exacting overview of your situation, provides clear steps toward refinement and cohesion, all while reinforcing your ability to make your goals achievable. 

Brandynn Stanford, CEO/Manager of Possibilities Two Story Systems, LLC

Reinforcing your ability to make your goals achievable

Project Management Template for FileMaker Developers

Susan brought a wealth of project management experience into her coaching. She was easy to work with, professional, humble, and always had a good sense of humor. She could be tough too, which we really needed (still do!) to replace old, inefficient habits.

Scott Howard, Owner
Scott Howard Consulting

Replaced old, inefficient habits

Project Management Consulting

After my first opportunity of working with the Beyond the Chaos team, I realized how relaxed and confident it made me feel at the end of the day. Simple things like getting a summary with clear tasks and discussion summary calmed me. I was able to know what took place without being there. I knew what everyone is supposed to be doing. I knew where I wanted to ensure we didn't get off track. I knew when I needed to make a decision on how to proceed, and got the right level of detail I needed in order to make that decision. Working with BTC feels proactive, instead of me reacting after the fact, getting one story from my developer and another from the client. Thank you!

Lisette Wilson, Principal Consultant
Informing Designs

Relaxed and confident

Project Management Consulting

We needed help to unlock key resources in support of our business plans. We needed someone who is selfless, tough-minded, able to execute on big ideas and unafraid of driving change — culture is company code, and we needed someone who could read and work with that code without the decades of professional development it takes to grow that resource. We were moving fast, making a lot of new things and trying to so do thoughtfully; it was vital that we had someone capable of keeping up and helping us push ourselves forward.

Ernest Koe, CEO & Co-Founder The Proof Group

Unlocking key resources in support of our business plans

Project Management/Operations Retainer

I have a life! And as a company, we now have the capabilities to manage not only our existing project load but to add a few more here and there without folding under the pressure. We now have a place for the development team to store and manage ALL the information about our projects and a clear process to govern it. It is now easy for me to keep up on projects, manage developers, manage project details and process, and keep ourselves on track. I would wholeheartedly recommend Susan and this service!

Jim Medema, Owner
Surefoot Consulting, Inc.

I have a life!

Project Management Consulting
Creating Effective, Productive Work Environments
We all want to have more time to do the things we enjoy. You can feel an intense burden when you are working in a disorganized and unstructured environment.
By knowing where and how to find things, following consistent processes, thereby reducing non-billable hours, you and your team will become more effective and productive. You can take on more clients and serve them more profitably.
Susan has always had a passion – as a productivity geek and a natural 'fixer' – for making people feel better by increasing their overall efficiency and effectiveness. Eradicating chaos, and helping you see beyond the chaos, gives us the greatest reward.
First, we develop a plan that works for your business needs. Then, we create a corresponding process to ensure success, so you can devote more time to the things you enjoy.
By getting beyond the chaos, you can spend more time on the important things like letting your creative juices flow, growing your business, spending time with your family and friends, or on your own personal recreation.
Meanwhile, you can more easily repeat your successes since the "how to" is clearly documented.
Latest from the blog