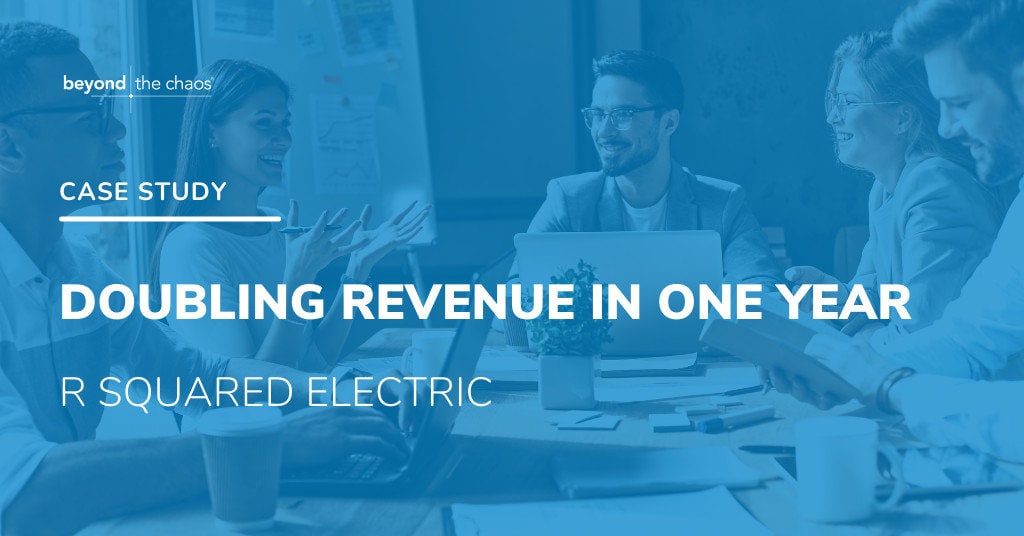 As the majority owner and COO of R Squared Electric, Christina Rossini and her business partner Mark Register (CEO) had seven employees and $500,000 in annual revenue after seven years of hard work — not bad for a small business. But in their zeal to grow the company, they steadily took on more and more responsibilities. In fact, they were performing the equivalent of six jobs each. Before long, the duo realized they had big bottlenecks in their business — plus long, hectic workdays — and realized it just wasn't sustainable. 
The Goal: Build a Scale-Worthy Business Free of Bottlenecks
At first, Christina had no problem keeping the business small and scrappy. But as the business took on more clients, it became too much to manage. She and Mark were at the upper limits of their capacity. Mark managed construction estimating, project management, and field operations. Christina wasn't resting on her laurels, either. She ran dispatch, scheduling, customer relations, invoicing, HR, and finance. "We were limping along, but we also were struggling with getting some traction with scaling internally so that we could really grow externally," she says.
Realizing something had to change, Christina first tried to DIY a solution. Ever the planner, Christina planned after-action calls with the team, where they reviewed project hiccups and looked for the root cause of problems. Her heart was in the right place, but R Squared failed to scale even after Christina's ambitious new approach.
She didn't have the capacity to step back and look at the big picture, which is what her company really needed. "We didn't really have any cadence or any real operating system to speak of," she says.
Christina attended a small business forum, hosted by Sandi Mitchell of Apex Catalyst Group. Susan Fennema at Beyond the Chaos (BTC) was on the same Zoom call and they connected thereafter. Ready for real change, Christina tapped BTC to bring structure, processes, and tools to R Squared.
"However good you think you are, you're only as strong as your weakest process. Start with good habits so you don't have to break bad habits later."

– Christina Rossini
The Tactics: Filling in the Gaps With Processes and Tools
Christina worked with BTC for four months to start retooling R Squared. Together, they identified issues and set up efficient processes to give Christina some much-needed breathing room.
Full Business Audit
In the first month of the project, BTC conducted a full audit of R Squared. Christina particularly enjoyed the activity audit, where the leadership team wrote down every single thing they did for the business during that period of time. From there, BTC reviewed the audit and categorized the activities into functional system buckets.
BTC now had the information necessary to identify what R Squared did well and where the company could improve. By identifying these gaps in systems and processes, BTC designed a clear path forward.
Revamped Organizational Chart
In addition to helping with the R Squared org chart, BTC also brought in a former field office employee to handle administrative responsibilities. "That was a tremendous move. That was something I wouldn't have thought of myself," Christina says.
Although she was hesitant to hand over the reins at first, Christina couldn't believe how easy it was to train an employee on the administrative side of her job. She thought it would take ages to train this new person on the systems and processes, but Christina found that it took no time at all. "I was happy to be wrong about that," she says.
New Processes And Software
After identifying gaps in R Squared's systems and relieving Christina of quite a few administrative to-dos, BTC started building processes to streamline the business even more.
Communication was a big issue. R Squared used a disorganized jumble of phone calls and text messages that interrupted the flow of business. BTC streamlined communication channels and trained the team to lean more heavily on Microsoft Teams instead of a combination of texts and phone calls.
Task management was also a big challenge for R Squared, so BTC moved the team over to Asana for task management. This didn't just streamline Christina's workday: it also made her personal life easier! "Asana was huge. I use it in my personal life as well. My life has been on Asana for a year and a half now," she says.
While Asana was ideal for managing tasks and internal projects, it couldn't handle the needs of R Squared's fieldwork and scheduling. Christina's team had been using Outlook calendar invites for scheduling and dispatching, so this system definitely needed an overhaul.
BTC introduced new field service software to R Squared, which gave Christina more visibility into both back-office tasks and field activities. Combined, these tools make R Squared more streamlined and operationally efficient.
The Results: From $500,000 to $1.25 Million in Annual Revenue
R Squared experienced tremendous growth as a result of these new processes and systems. The company remained at nine employees, but more than doubled its revenue to $1.25 million by the end of 2022.
The revenue increase came in part to using the right tools to track what mattered most. Looking back on the process, Christina believes her collaboration with BTC molded her into a stronger leader. Ultimately, Christina realized the importance of processes and tools. "However good you think you are, you're only as strong as your weakest process," she says. "Start with good habits so you don't have to break bad habits later."
Grow your business with fractional operations consulting and project management. Schedule a meeting today!