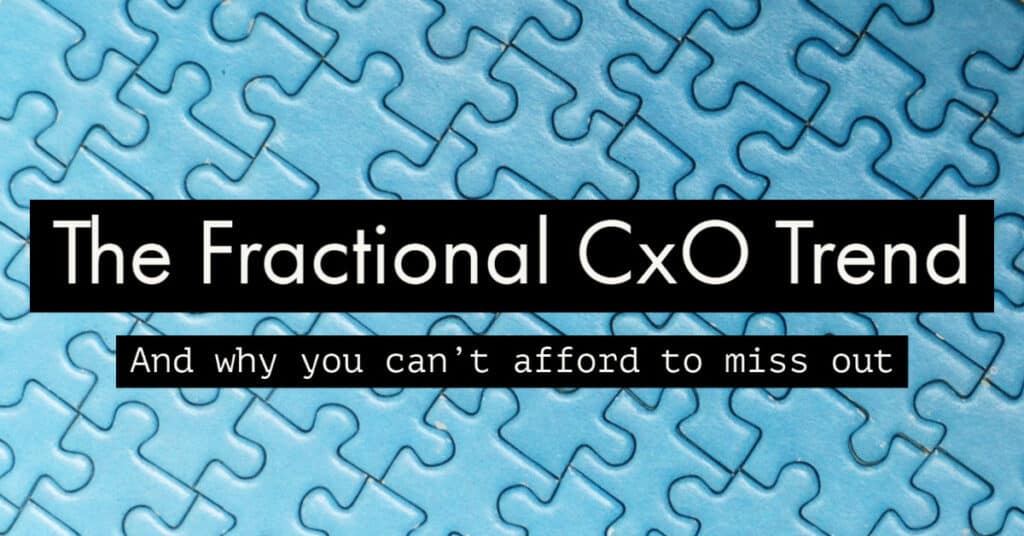 There are endless joys that come with being a small business owner or CEO: independence, control, creating employment opportunities for others, and seeing your passion come to life. But leading a company solo, without another executive partner, can be lonely. Not to mention the stress associated with being the main decision-maker for everything from finance to marketing to HR. You may have considered bringing another executive on to help you lead because of those reasons. Unfortunately, the average executive salary for 2021 is $204,000. With some roles requiring around a $300,000 price tag. That doesn't even include the executive benefits package or expected bonuses!
That level of talent is out of reach for most small businesses or start-ups, where resources can be tight. But what if you could get that same expertise, for a fraction of that cost? Well, now you can. Because the future is fractional. Fractional executive, that is. There is now a way to get decades of executive-level experience, for less commitment and money. As a small business owner, the fractional executive trend is fantastic news for you and your payroll. If you haven't heard of the fractional executive trend, think of it as the gig economy, for the C-suite.
What is a Fractional Executive?
Fractional executives are perfect for small businesses and startups, or companies that are trying to scale. They help bridge the gap between your need for executive brainpower and your limited resources. It has been said that a fractional executive can provide a time commitment equivalent to 20% to 50% of a full-time executive, at a third of the price. Imagine getting the expertise of a 30+ year industry veteran for a discount.
They exist for every position of the c-suite: CFO, CMO, CIO, CHRO, CTO, COO, and even Chief of Staff. Because there are so many variations of c-level executions, they are often known as "CxOs." If you're a small business owner, you're probably already fulfilling all of these roles on your own.
Fractional, of course, means they aren't a full-time employee. And, instead, are working limited hours each day or week. Or, serving full-time for a shorter period of time. Therefore fractional execs don't require the retirement benefits or bonuses that a typical executive would. It's a "pay for what you need" model that is a win-win for everyone.
Another benefit to using a fractional exec is their fresh, outside experience. Most fractional execs are 20 or 30-year subject matter experts and have prior experience of being a full-time executive.  They have worked in that type of role in other companies and industries and can apply their learnings to your business. This experience means they can also challenge you to do things differently. And can see new opportunities for growth you may have overlooked, along with other blind spots.
So that's an overview of how a fractional executive (CxO) may help your organization. Let's take a look at what a fractional executive means for operations, in particular.
What is a Chief Operating Officer? 
The Chief Operation Officer (COO) is often known as the "second-in-command." Apple's Tim Cook and Facebook's Sheryl Sandberg are some of the most well-known who have or currently hold this position. They are responsible for the daily operations of their companies. COOs usually oversee internal functions, so that the owner or president can be freed up to deal with external matters, like business development.
Some of the teams or efforts that a COO oversees include:
Corporate strategy
Sales operations
Marketing
HR
Project management
All administrative functions
What Does a Fractional COO Do?
A Fractional COO does most of what a full-time COO would do but on a fractional basis. Think operations expert, who can be brought in on a part-time or project basis to organize, set up, and manage your company's operations.
A fractional COO can:
Review your operations and make recommendations for efficiencies
Implement new processes and technology, including software and other SaaS tools
Maximize your resources
Define employee responsibilities
Lead strategic planning
Optimize your sales funnel
Get your bookkeeping/accounting/payroll processes in order
Establish project management practices
Coach your employees and identify top talent/resources
Be your confidant, but also challenge your thinking
When Should You Use a Fractional COO? 
Find out which fraction is right for you with a consultation with Susan.