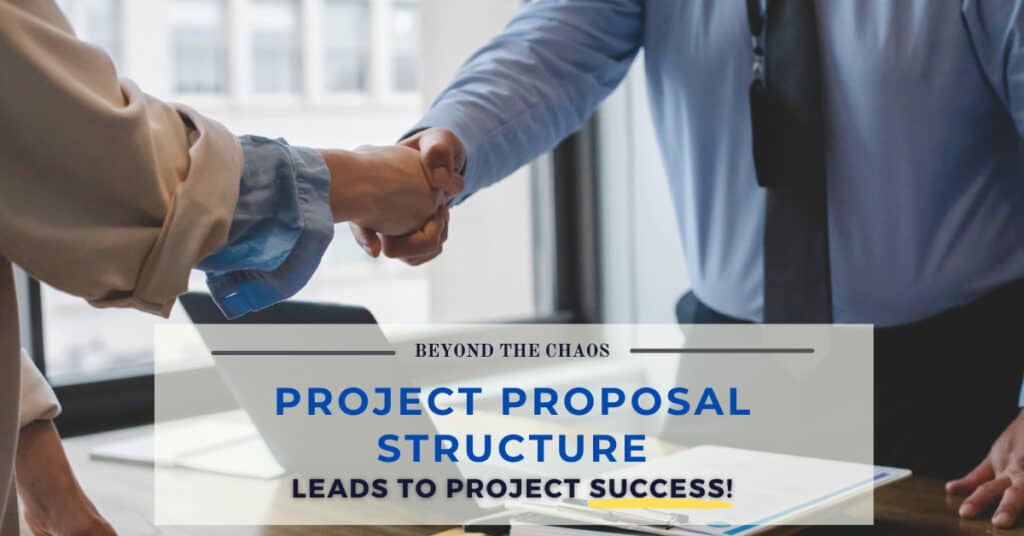 A good project proposal is necessary to the success of your project. It defines the scope. It provides the budget. Lastly, it sets the timeline. In other words, your project proposal sets the tone and expectations for the entire project.
At a minimum, a project proposal should include the following:
goals of the project
reasons the project is being undertaken and what the client should expect to achieve from it (think ROI)
scope
pricing
timing
payment terms
signature area
any necessary legal language
an expiration date for the proposal itself
Let's look at each project proposal item in more detail.
Goals, Expectations, and Value/ROI
These areas can sometimes be covered in one sentence on the proposal. They might be extensive enough that your project proposal should include them in a bulleted list. Or,  you can write them in prose, like a story. The importance is that you are setting the tone for why you are doing the project. If your contact at the company shows the project proposal to someone else, that other person should grasp what should be expected – in general – from this area.
Scope and Options
It is important to provide the options from the client's perspective. Including tech specs for a massive undertaking is not productive. The client won't read it, and even if he does, he won't understand it. In other words, explain what kind of sausage the client can expect, rather than how you are going to make it for him.
Here's an example for the software development industry: let the client know you'll build an invoice with a place for a purchase order, a payment method, shipping instructions, and a place to calculate state sales tax. How you build it behind the scenes doesn't matter, but maybe the fact that you'll provide a workflow or mockups does.
It's recommended to propose three project options for the potential client to consider.
One option covers the minimum viable product – the bare minimum that could be done to reach its goals.
The second option covers all the client's requests.
The third option allows the client to dream a little and show what you can provide above and beyond what the client has requested. Additionally, by having three options in your project proposal, you can put pricing in context, as well as scope.
If the project is straightforward, say, like a bank of hours – you can just put it out there. But, you can even provide three options for a bank of hours. For example, a 40-hour bank of hours might be 25% less per hour than a 10-hour bank. A 5-hour bank might be 25% more per hour.
Pricing
Including pricing is the bare minimum of a project proposal – and it one of the only things in the proposal that mentions what you, the service provider, will get for the undertaking. If you are including multiple options, make sure the price for each option is clear.
Fixed pricing is preferable whenever it's possible to nail it down. Fixed pricing gives you, as the provider, motivation to stay in scope and to finish the project in a timely fashion.
When it is impossible to define pricing, providing an estimated number of hours and an hourly rate will work. The client will read your estimate as a firm price, so do a little due diligence to understand the level of the challenges and not underprice yourself.
Make sure that you are willing to execute the project at the lowest price you provide. And, make sure you can make a profit at that price. Otherwise, you're setting yourself and the client up for frustration before you begin.
Timing
Setting expectations on when it will be completed is a vital part of a project proposal. By including completion dates in the proposal, you need to do the work of figuring out timelines to fit the client into your schedule. Remember that the estimated hours do not equal the duration of the project – and that's something you can start educating your client on at the proposal stage.
There are several methods you can use to arrive at the project timing.
The first option is a final date.
The second option is a "go live" date – this is especially good if you include support as part of your project proposal or ongoing maintenance to follow.
 A third choice is to provide a duration (e.g., it can be completed in 6-8 weeks). If you choose this method, you have to set expectations about the start date. For example, you could say that you will create the timeline once the project proposal is signed or after payment is received.
Lastly, if you are doing a phased or Agile method, you can provide verbiage like, "Every two weeks, we will roll out a small, fully functioning phase. There will be a flow of rollout, testing, and then modifications, taken in small chunks to expedite getting portions of the solution in your hands. A detailed schedule will be built upon feedback and acceptance, but we believe the entire project will be completed by the end of the summer."
Whichever method you use, the important part is to set the expectation in the client's mind of when this will be complete and to set some urgency to complete the project. The client receives no value from an unfinished project, and the longer projects drag out, the more costly the project is for the provider.
Terms and Legalease
Include how you expect the client to pay you.
Consider:
Are you sending a digital invoice for payment via an ACH link?
If they would rather pay with a credit card, do you charge an additional fee to accommodate credit card payments?
Will you accept a bucketload of cash?
Are mailed checks OK?
Be sure to include when payments are due too.
Is it all upfront?
Do you want a downpayment with the remainder due upon completion?
If you take the remainder upon completion, how do you define "complete"? (Be careful with this method!)
Are banks of hours pre-paid and reloaded as they drop below a certain minimum?
If you receive payment after the fact, how quickly is the money due? Net 10? Upon receipt?
Terminology, Non-compete, and Availability
If you need to define certain terminology, this area is a good place to do that. If you have subcontractor relationships you manage or employees working for you that you do not want your clients to "steal away" from you, you should add some legal verbiage about how they can't hire your team members for a certain period of time after your work together is complete. Confidentiality can also be covered in this area if you can keep it brief. (The verbiage for the last two should probably come from a lawyer.)
Terms might also include your availability. This is important, especially for support or maintenance projects. What hours do you work? Is there an upcharge for weekends, etc.?
Signatures
Make sure to include all the above information, along with a place for an authorized representative to sign. It should include their job title and business name, along with the date.
Make it easy for your client to sign the proposal. Please don't make them print the proposal, sign it, scan it, and send it back to you. Use AdobeSign, HelloSign, or something similar to provide a digital signature. Now that you've won the business, the last thing you want is a delay while they go through the physical steps – give them a button to push!
Make the Project Proposal Expire
Without an expiration date on the project proposal, you risk having your proposal float in the ethos for a while. Setting an expiration date for the proposal itself creates a sense of urgency with the client. It also allows you to set better project timing in your proposal based on the expiration date.
Another benefit to a proposal expiration is that it's a natural place to contact the client in your sales process. You can remind the client of the expiration date as it nears to see if he has any questions.
It also sets a limit for how long you will hold the quoted pricing. Lastly, it provides a period of time that keeps the initial discussions fresh. If you get too far away from those initial discussions, things change – on both the client's and your end.
If you follow this basic structure for your project proposal, you can start your project with a basic understanding and expectation to drive the whole thing through to completion.
Are there additional tricks you've tried with your project proposals that have worked to help your projects succeed? Please share them in the comments.
For more self-guided resources, visit our complete guide to successful small business operations.