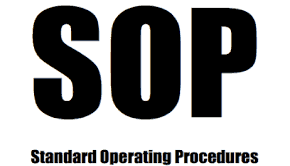 You are running a small business. You diligently plan your sales, your finances, your resources and your marketing. And, you get things done. But, you are overlooking an integral area in your business as far as growth. You cannot scale your company unless you follow consistent processes by creating SOPs (standard operating procedures.)
It is important that your team know what to do, when to do it, and how to do it. If your team can consistently repeat the same activities, you get better customer service, increased employee productivity, and better internal communication. You will retain your employees longer and will be able to attract better team members. It can even affect your branding if your team isn't doing and saying the same things for your customers.
Here's an example: Jeremy runs a small catering company. At first, it was just he and his wife. Ann did the sales. He did the cooking. She managed the finances. He managed the marketing. They had limited resources, working out of their home. But, they saw success fast. Their reputation was superb; their service exceed expectations and before they knew it, they needed to find a commercial kitchen and hire people to cook, serve and drive because they were getting so much business.
Building a Team
With the addition of employees, they had diligently planned the finances to make sure they always made payroll and rent. They kept up their marketing and sales. But they didn't have any processes in place. Drivers were not delivering the correct amount of flatware and glassware. They were losing these valuable resources when they didn't know the right amount to pick up. Cooks were not consistently putting out food, and servers were not answering guests' questions correctly in regard to future sales opportunities.
Initially, they started losing customers to these oversights and the couple learned quickly what the problem was. There was no way to consistently serve their customers without sharing their vision and setting up their team for success by giving them a set of operating procedures to follow.
The first step was to put checklists in place for the drivers for deliveries and pickups. They noted how many forks, knives, and wine glasses were going and coming from each event. Cooks were given detailed recipes to follow, including checklists for what should be included for assembly at the location by the servers. Plus, servers were given checklists of what to expect at the event, with instructions of the order the buffets should be set up.
The next step was to develop processes so that everyone in the company had the basic information as to how the whole process worked. These SOPs explained the details – from a customer contacting the business, through sales, reservations, cooking, delivery, serving, pickup and delivery. They created touchpoints between each handoff and each groups' leaders double checked each others' work to ensure success.
Communicating Vision by Creating SOPs
Jeremy and Ann wrote up their vision so that each employee understood the principles and vision of the company. And, they knew basic answers as to how to direct potential new customers to get the information needed.
Lastly, they wrote SOPs to reflect those processes. With the help of their awesome team, they documented the processes. As a result, if anyone left the company or was absent, others knew how to fill in for him or quickly train temps for big events.
Eventually, they included standard business processes of how they recruit, interview, and hire new employees. They added the standard onboarding and off-boarding processes, the improvement process for employees not meeting expectations, and training for new employees.
Business improved fairly quickly and the employees were much happier. Furthermore, the employees no longer had to deal with annoyed or even angry clients. They were able to meet the clients' expectations. And as a result, the employees stayed around longer too.
An unintended consequence of putting these SOPs in place was that the business itself became a more valuable entity. Should Jeremy and Ann decide to sell the business, a new owner could replicate the success from the beginning.
Jeremy and Ann, as organized, detailed, and well-written owners, did this themselves. But not all owners can write them. Some don't want to or don't have the time to work through these details. Should you need assistance in these areas, don't hesitate to contact me.