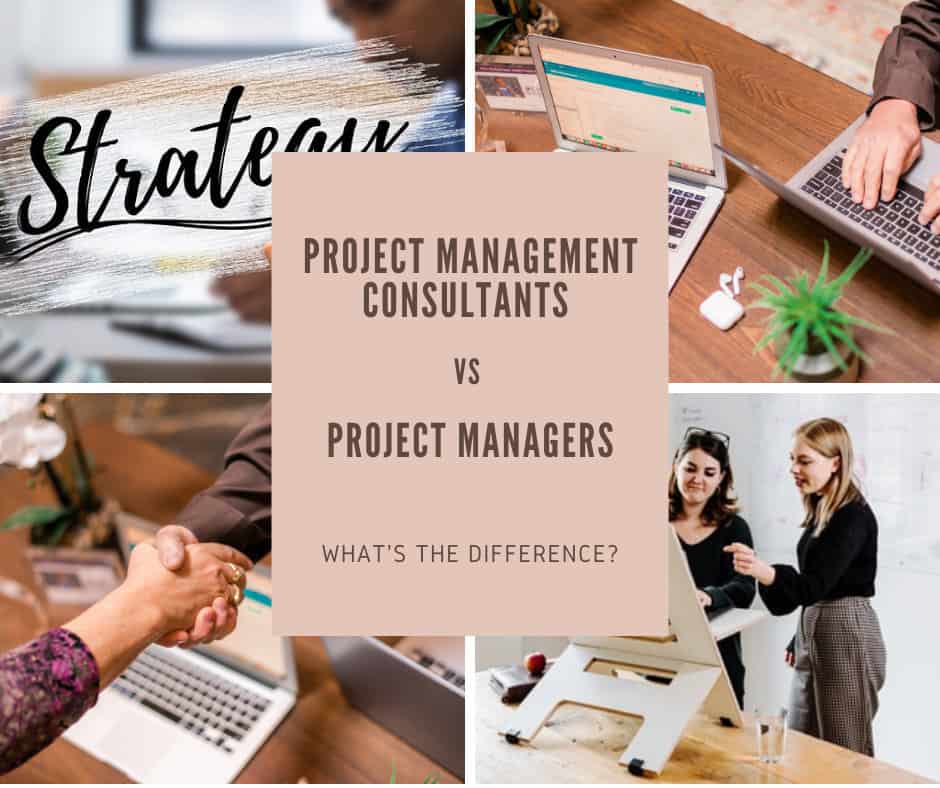 Happy New Year!
I'm looking forward to another year of helping small businesses continue to manage not only new business challenges but other challenges that the pandemic has created in the workplace, like the need to become more efficient as they continue to work remotely.
New business challenges for you this year hopefully mean you are dealing with a surge of new work! I am thankful personally that I have been able to add some more staff and expand my project management consultancy efforts.
What is a project management consulting firm?
Speaking of project management, often I get questions like "so, I know what a project manager is, but what exactly is a project management consulting firm?" It's an important question (and difference), and if you want to evaluate your operations this year, you need to know where to start.
Let's first start with addressing the "consulting" part. Mentions of a "project management consulting firm" may conjure images of The Bob's from Office Space."The Bobs" are the quintessential efficiency consultants. Impersonal, monotone, expensive, and invasive. They provoke fear among employees of all levels, as they are notorious for removing the middleman, downsizing, and creating cost efficiencies.
As the owner of a project management consulting firm that improves efficiencies for small business owners, hearing some of the stereotypical consulting reputations like that always makes me cringe. A project management consulting firm like Beyond the Chaos works to remove barriers, not people, to help you run your business more effectively. Our work grows your business; it does not reduce your business and payroll.
Why hire a project management consulting firm?
The biggest barriers for small businesses hardly ever involve extra overhead or middlemen. You already run lean. There are no middlemen. I know from working with small business owners around the country that your number one growth barrier is overwhelm.
Overwhelm is chaos. It means having to work every weekend. Or not being able to spend time with your family. Or struggling to fulfill promises and obligations to your clients and employees. It means you, the business owner, can't focus on growing existing clients or prospecting new ones. Removing this barrier of overwhelm is key for you to get your life back.
What does overwhelm look like?
Overwhelm can look like any or all of these:
Too much work and uncertainty on what gets done first

Lack of processes, policies, procedures for how to get work done

No project management or internal communication tools

Uncertainty around managing clients who cause scope creep

Employees who have never been formally trained in project management strategies, but are relied on for managing projects.
Look familiar? It might. And that is ok! Everyone in your small business is critical to delivering on your product or service. You all are excellent at your craft, but might not necessarily be skilled in client communication, project strategy, collaboration tools, or how to budget projects so that they are actually profitable. You came together as a company because you are experts in doing one thing really really well. But no one is good at everything. That's why we exist, and why someone would look to hire a project management consulting firm for help.
How do we help?
A project management consultancy firm, like BTC, can be hired to identify the cause of your business challenges and overwhelm, and then make recommendations on how to fix them. It's a business strategy, focused on how project management efforts can help you grow and regain control.
My team and I act as trusted partners as we consult for small businesses across the country. Someone who lends an ear and provides advice on many parts of your business as well as your future growth. We are project management experts and can help you understand the overall strategy of what's going on to make your projects run more effectively and profitable.
Many times consultants get a bad rap for being inexperienced or for being a "master of none." They haven't done the role before, nor have they worked in the industry they are consulting on. We have. All of our team has worked as project managers or operations professionals in large and small businesses across the country. My team and I have worked in project management functions at companies like software developers, creative firms, accounting boutiques, and home services. And now, we serve them.
What's the process to get started?
Our first step is that we discover. We will talk to you, the business owner. We listen to your company history, your challenges, your goals. My team and I will talk to your employees and find out what their day-to-day is like, and how they communicate and get work done. We're evaluating, and, identifying some of the causes of the overwhelm. We will also have fun doing it. That means no jargon, bureaucracy, or hidden agendas. Then we make recommendations. No scary "The Bobs" meetings. That's the consulting part.
What is the difference between a project management consulting firm and a project manager?
After we evaluate and recommend, Beyond the Chaos can also help you implement. This is the project management part. Not only are we consultants, but we also work as project managers. This means the strategies we have outlined for you in terms of implementing new tools, creating and executing processes, hosting more efficient meetings, and improving client communication… we can do all of it for you.
We already know you run lean. So you may not have the means to add a full-time project management employee. But you might be able to add a part-time project manager for a few hours a week. The other great part is, if we already performed the consulting work for you, we already know how your business operates!
A part-time project manager is somebody who could come in and help you stay on track a little bit. I'm not talking about some rigid bureaucracy that is heavy, but somebody to give you a simple reminder for now, for every now and then, or to say, "Oh, this is due Friday. Did you have that on your radar?" Those types of things.
For an example of the type of things we're able to manage for you, read more in this case study.
The Result
Once you get out of the day-to-day overwhelm of your business, you WILL be able to focus again. If you're feeling overwhelmed, consider hiring a project management consulting firm like Beyond the Chaos so you can run your business instead of your businesses running you.
Want to know if your company needs project management consulting work or project management work? Get our free project management free audit now!