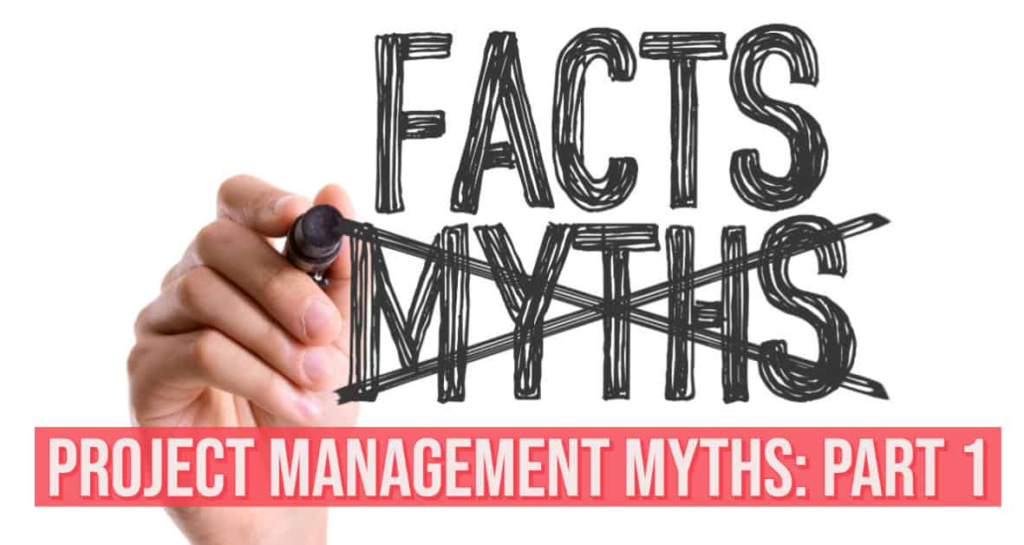 I have made a career in operations consulting and management. I have so much passion for helping companies realize the sense of calm, efficiency, and business growth that project management can bring. But over the years I have certainly seen some misconceptions and myths out there about what project managers do and don't do, or the value they do or don't bring. So today we're tackling Part 1 of the most common project management myths. Many of these myths come from not understanding what a project manager actually does, and the intangible value they bring. Let's go bust some myths!

– Susan Fennema, Fractional COO & Owner of Beyond the Chaos
Project Management Myth #1: "I have a project management tool… I don't need a project manager"
Project management and collaboration tools like Teamwork.com are great. More than great. Tools are imperative for every single project so you can assign tasks to a responsible party with due dates, build schedules, track work, communicate, and pull up task lists by each individual.
But are tools a replacement for a project manager? Going to bust this myth… no!
A tool alone will not get the project done just like a hammer won't build a house. You can have the best project management tools that money can buy, but if you don't understand how to manage a project, the tool will be worthless.
Tools Need Project Managers Too
Many project management tools also require maintenance and upkeep to continue to work as they are designed to, regardless of how efficient or talented your team is. Someone's gotta run that too.
Having both the technology AND the project manager is the best combination. Here's why. Tools help increase the effectiveness and efficiency of project managers. They help them do their job faster by aggregating data, accelerating workflows, generating reports, spotting trends, and automating tasks.
But tools have limitations. They cannot influence stakeholders or manage relationships or negotiate. They can't tell the client why the project delivery may be delayed or exceed costs. These business needs require human communication with a side of empathy. Susan mentions the "intangible value" in the opening paragraph. Communication is one of the biggest intangibles that project managers bring.
And no, Project Managers will not be replaced by robots anytime soon. Tools will not solve all of our problems… not yet anyway. The success and quality of a project are dependent on the skills of the project manager. One of the things our team does is make sure the clients' team operates with the right technology, like Teamwork.com, and has properly implemented it into the daily operations.
Project Management Myth #2: "Project management is not billable"
As a company that utilizes project management as a key foundation to success both internally and for clients, know that project management is absolutely billable. If you are not billing your client for time spent on their project, you're losing out on revenue. Even if you don't have a specific person who's dedicated as the project management resource, it's safe to say that there's probably someone's who's doing project management work anyway.
The Value of a Project Manager
Think of a project manager like a general contractor of a construction project. No one would disagree that the cost of a general contractor should be included in an estimate. Because who's going to build their new house without a general contractor overseeing the workers? No one… unless you want a house that never gets built. In this analogy, your project manager is your contractor and your business project is your house. You need a dedicated person to help oversee the project vision and manage it to completion, just like a general contractor would.
There is obvious value, and hence the need to bill for it.
Susan explains, "Back in my ad agency days in Chicago, I would have my project management teams include project management fees in every single project estimate, no matter how big or small the project. Even for a quick 5-hour job as simple as resizing a print ad, I would make sure my account team always included at least an hour for project management time. Because the art director needs direction, and the specs need to go from production to the art director, and the ad needs to be shipped off to the publication, and the client needs an update. Without that 1 hour, I can guarantee you that the project would not have the same result."
How to Get Stakeholder Buy-in for a Project Manager
Transparency and education for your clients on your process and how you bill projects is crucial. Clients will pay for project management when they're educated upfront on your process and what type of fees were typically included in a project. Even 30 minutes of billable time a week can be helpful to keep projects in scope and clients happy. At the very least, it can help a developer to understand what has been agreed to, what will cause a delay, and what tasks will increase costs. These 30 minutes will help your teams stick to the agreed-upon scope.
If you're having trouble selling the need for project management to your clients, there are a few ways to combat it. Ask your client if they plan on running the status meetings. Or if they plan on creating timelines and reports for the team. Putting the tasks back on them will soon show them the value of what your project manager can provide.
These were the biggest project management myths about what project managers are NOT. But I also have some project management truths.
Project managers ARE:
Cat herders
Cheerleaders
Problem solvers
Mini-CEOs
Diplomats
Alarm clocks
So, thank your Project Managers. They do a lot.
If you need help selling project management services to your clients or internal stakeholders, we can help you communicate the value of adding a project manager to your team (as well as show you what LACK of services can do). We have very experienced project managers who can take care of it for you, so you can do what you love to do most in your business. Additionally, you can check out our project management services for a better idea of how many hours you might need to budget.
How to Start With a Project Manager
If it's budget that is keeping you from adding a full-time project manager to your team, let's also talk. Being fractional operations consultants and project managers, we serve as an in-house team starting at just 5 hours a week. This is a great way to ease into learning what operational efficiency and project management can do for you.
To read Part 2 of our Project Management myths series, click here.
Visit our guide to learn more about how you can achieve operational success for your small business.