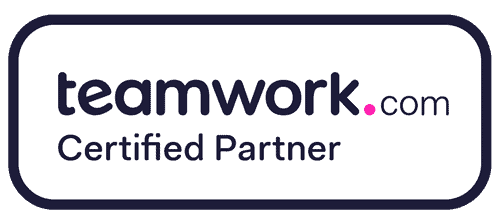 Better Teamwork.com with Beyond the Chaos
As a small business owner, your time is highly valuable. It's critical to optimize your most important resources – people and money.
Good news! Teamwork.com helps optimize both.
Companies see a 437% ROI when using Teamwork.com to manage their projects, according to The Total Economic Impact™ of Teamwork.com study conducted by Forrester Consulting. And, project managers using Teamwork.com save two hours per month per project due to better project planning, resource management, communication, and analytics.
That means if your team has 20 projects, you get back 40 hours a month. The equivalent of one full working week! That gives you more time to take on additional projects, which means more revenue for you.
Teamwork.com Projects Consulting Options
Beyond the Chaos is a Teamwork.com Partner. We help you use Teamwork.com in three ways to get results for your business:
DISCOVER: This consulting service gives you a clear idea of what to work on next and when. Consulting can be conducted as part of a suite of services or on its own if you choose to implement the work yourself. This option is perfect for any growing professional services business, whether you're in the software development, accounting, creative, or trade services industries.
IMPLEMENTATION: This done-for-you service is where the rubber meets the road. Unlike most consulting firms, we actually DO what we recommend. Implementation could involve:

creating best practices for how to use the features in Teamwork.com to accomplish your team's specific needs
moving from another project management tool to Teamwork.com
setting up project or task templates
rolling out Teamwork.com with your team, including training
writing processes
accountability sessions to make sure you are making progress on your own
coaching while you do-it-yourself

PROJECT MANAGEMENT: F

ocus on running (and growing) your business by having o

ur expert team facilitate your projects for you.

Our project managers have

combined over 100+ years of project management experience and use Teamwork.com daily

with our small business clients.

Whatever the work, we are definitely more than "just" project managers. Over time, your consultant will become a trusted partner — someone who will listen and provide advice on many parts of your business as well as your team and future growth.
Still Not Sure if Teamwork.com is Right for You?
Watch this interview with Logan Lyles, Head of Partnerships at Teamwork.com, and Susan Fennema of BTC:
Get Started
Complete the Operations/Project Management Audit form for Teamwork.com users to try us out for free or contact us today.
Other ways to work with us.
Do you have a specific question about Teamwork.com or another project management software, or want guidance getting through a few operational challenges? Sign up for our pick-my-brain service, a one-hour paid consultation. Schedule Here.