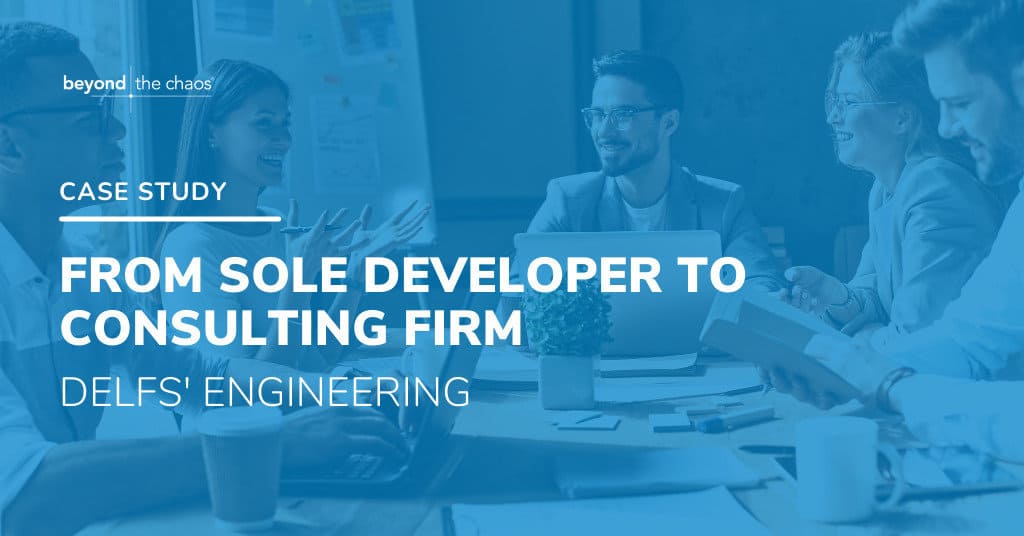 Getting Delfs' Engineering Into Shape With Strong Systems and Documentation
Charles Delfs is the founder and CEO of Delfs' Engineering, a small software engineering consultancy. Delfs' Engineering specializes in creating SaaS applications for Claris® (FileMaker) databases. The elegant app allows software developers to make web applications more easily, which makes it simpler to manage content coming from a database.
While Delfs' Engineering excelled at creating SaaS products, the business wanted to revamp its consulting services. The problem? Delfs' Engineering was growing — almost too quickly — and had a hard time scaling. "I'm an engineer at heart," says Charles, "I like to be very hands-on."
However, Charles struggled to manage administrative issues, like procedures and documentation. Growing from managing the business himself to a team of multiple full-time employees meant Charles needed help. "I was starting to get stressed out and pulled all over. We weren't doing a good job on the business aspects," Charles explains.
One of Charles' team members, Eric Luce, mentioned working with Susan from Beyond the Chaos. A natural skeptic, Charles was hesitant to accept help, but he agreed to work with BTC — and changed the trajectory of his business for the better.
The Goal: What Delfs' Engineering Tried First
Before working with Beyond the Chaos, Charles did everything he could to DIY his business turnaround. He read every self-help and business book he could find.
At first, Charles approached the issue as an engineer. "As an engineer," he explains, "You want to tinker. Everybody who's a business owner is some kind of technician at heart. We want to focus on our craft."
To that end, Charles tried to DIY and implement new systems himself. Problem was, Charles' developer brain often got in the way of his big goals. He found himself going on tangents filled with tech talk and got meetings off track of the business focus. "The big learning curve is knowing what to let go of," Charles says.
In order to grow his business, Charles realized systematic change was necessary for his company's longevity. Delfs' Engineering lacked the stability of foundational processes, which held the business back. Charles accepted Beyond the Chaos' help to build a more sustainable business.
The Tactics: Turning Skeptics Into Believers With Systems and Organization
"I was very skeptical going in," he explains, "I'm not buying a refrigerator. I'm buying a service. It's very hard to understand the value because it doesn't come instantly. You have to trust the process."
Thanks to Charles' trust, BTC was able to help his software engineering firm streamline systems, improve client relationships, embrace smarter software solutions, and preserve the company culture.
Systems and Documentation
For BTC, the first step was to create a concept of systems and implement them. Charles worked with three team members from BTC over the course of a year and a half to implement systems and document processes for his team.
By documenting basic business processes, Charles realized his company finally had a set of essential rules. With procedures in place, there was less ambiguity and more clarity for his employees to feel confident in their roles.
Client Management Solutions
Internal processes were just the tip of the iceberg. As Charles' company grew and took on more consulting clients, his team struggled to keep up with the workload. BTC implemented Teamwork.com for Charles to bring his team's project management into one simple system.
With procedures in place, next BTC helped Delfs' Engineering streamline its client relationships. Previously, Charles calculated estimates in his head. Now, with a bigger business and team, he relied on BTC to create documentation to guide these client relationships. Together, BTC and Charles created templates and processes for statements of work, conditions of agreement, estimates, and more. These steps helped Delfs' Engineering simplify the quoting process and give its clients greater consistency.
Software Improvements
With solid systems and documentation in place, BTC helped Charles sign up for the right mix of software solutions to do better work in less time. For one, Delfs' Engineering migrated over to a better task management system in Teamwork.com, which made it easier to manage projects and employee workloads in one system. They also integrated their calendars with Calendly to simplify meeting scheduling and eliminate pesky back-and-forth emails.
Molding Solutions to Fit the Existing Company Culture
Charles created a positive, collaborative culture at Delfs' Engineering and didn't want these changes to hurt his team's culture. Fortunately, BTC created solutions with Delfs' Engineering in mind — which meant the company could embrace solutions that fit within its existing culture.
"It wasn't just the systems on their own," Charles explains, "It was about tailoring these systems for what worked for us, how our team works, and our corporate culture."
For example, Delfs' Engineering now has systems in place to hold consistent employee quarterly reviews, as well as weekly standup meetings. They even created a procedure for how employees can ask each other for help or guidance.
The Results: A Business Primed For Growth
For Charles, the main outcome of this process was business organization. He likens the experience to hiring a personal trainer. "It's a personal training exercise for your business. You might not see results immediately — and you might have to do things you don't want to do — but you know they're the right things to do," Charles says.
Charles says the experience challenged him as a leader, but it made Delfs' Engineering the strong business it is today. Delfs' Engineering grew from Charles being the sole developer to a consultancy with the help of the processes BTC put in place. Today, Delfs' Engineering offers both a SaaS product and full-service database development.
When he first worked with BTC, Delfs' Engineering had just a handful of part-time workers. Today, the business has ten full-time employees plus a few part-timers. Thanks to these improved processes, the business saw a tremendous revenue expansion for the consulting side of its business. These changes put Delfs' Engineering in the upper echelon of North American consultants in its industry. "I'm pleased with where we're at now," Charles concludes. 
Are you looking for creative ways to grow your business with fractional operations consulting and project management? Schedule a meeting today!