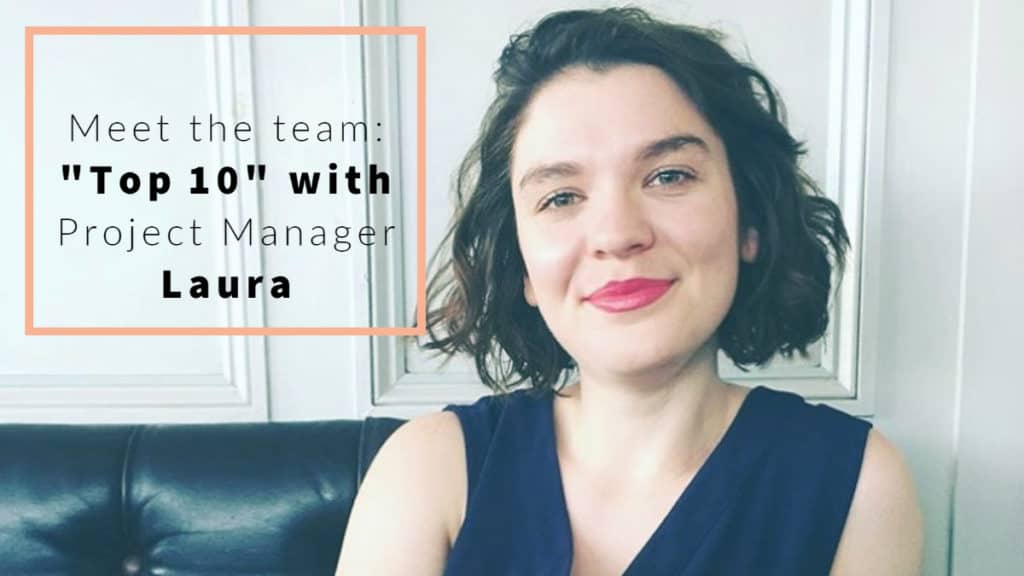 If you've been reading my blog for a while now, you've probably learned a lot about my love for the Aggies and paperless environments. Or how I got my project management start in Chicago many years ago. But you might not know much about the other members of my team… including several who are doing a killer job serving as Project Managers for our clients. While I might be the main face you see representing Beyond the Chaos, my Project Managers are the ones who keep the business and projects running for our clients. That's why I'm introducing a new series called "Top 10", where my team answers 10 questions about what makes them tick and how they like to get work done for clients.
While I have equal affection for all my employees, it's only right that I start the series with the woman who was my first employee – Laura Elliott. Laura and I were introduced through Chicago ad agency colleagues. She's been with me since 2017. She makes clients happy with her project management skills and dislikes chaos almost as much as I do. Meet Laura!
Can you tell us about yourself and how you got into project management?
I went to the University of Virginia and majored in drama and economics. I always thought I'd be an actor. My plan was to move to NYC after college and get into acting. One of my required college classes was stage management. It's like project management, but for theater production. I really enjoyed it. I graduated early and got paid to lecture about stage management at UVA.
After UVA, I moved to Chicago for theater. While I was looking for a job, I applied to an ad agency (at the time, Discovery USA) now Razorfish Health. The role I interviewed for was a Project Coordinator. They explained the skill sets. I thought, "wow, I can do that because this sounds A LOT like stage management." I began to realize I enjoyed setting people up for success. And setting artists up for success.
It still feels creative to be a theater producer and it feels creative to be a project manager because you're finding creative solutions to problems. You're navigating and creating a plan and you're making sure everyone does their best work. Sometimes you are clearly the leader and sometimes you're the silent leader. And sometimes you're doing high-level tasks and sometimes you're doing the most minuscule tasks. Today, I do project management at Beyond the Chaos as a virtual employee and I produce theater in NYC. I also do yoga and run marathons. Whew!
What's your project management superpower?
My project management superpower is "superhuman endurance with some mind control." As someone who feels they work all the time, I think that project management takes a lot more time than people think in order to get it to be successful.
How would you describe your communication style?
I like to think that my communication style is direct, concise, and warmly nudging. I like to think I'm the "kind, strict parent" that tells you what you need to do and by when, but is also here to help soothe and help you navigate a solution. I'm going to listen to the problem and approach it from all angles with you and will guide you to a solution that is going to actually work with you.
Favorite Teamwork.com project management software tip?
If you're feeling overwhelmed by tasks and task lists (they can be lengthy!), or you can't figure out how to use a Kanban board, just use tags! It's amazing how much a "waiting for client" tag on your task list can let you know where you're at with your life. If you just want to be able to visually look at something and it's too complex to turn into a Kanban board…use a tag!
What's been the most challenging project you've managed and how did you solve it?
Back in the ad agency days, I led a label change project for 400+ products for a pharmaceutical product line. I solved it by creating a high-level status spreadsheet and implementing daily scrum calls. I can't express enough how much a daily 10-min check-in can accomplish. It makes sure everyone is on the same page, and the immediate needs are taken care of. It can feel like the call is taking time away from getting things done, but that's the opposite of what it actually achieves.
In busy times, I recommend one top of the day and also at the end of the day. For top of day, it's good to recap all the things going on and which ones you can accomplish. For end of day calls, you can recap what you accomplished and didn't accomplish, which sets the plan for tomorrow.
How do you know when a project is off track?
A few ways. Priorities not being clear is a big one. If they don't know priorities, the project is already off track. When the client feels like they don't know what's going on. When dates are getting dropped but there's no clear expectation. When a developer does work they aren't supposed to be doing. These are signs that the train is slowly shifting from the rails. Sometimes that needs to happen, and we do need to change scope. But it should be a smooth transition, not a derailment.
Getting off track is ok, but we need to talk about why we're getting off track. And if we should get on a NEW track or go back to the old track. This example is why daily check-ins with project managers can be really useful.
Most frequently asked question you get about project management from your clients?
"Is project management billable?" is the number 1 question I get! Here's how I answer: "Does your client want you to finish your project in the budget you told them?" YES. "Does your client want you to finish the project within the timeline you told them?" Also YES. "Does your client want you to make sure the project deliverable is what they wanted?" YES. If your client wants all these things, then, yes, project management is billable! Get yourself billable project managers.
Most used emoji on Slack and why?
Probably the thumbs up. I realize that's not a very exciting one, but it's a great way to show someone that you've read the note, or agree. So I'll jump to my next favorite emoji, which is the witch emoji. Lately, I've really been thinking about being empowered by all the amazing women in my life. My favorite thing is to send witch vibes to friends, wishing success to what they are doing. Goes back to that mind control superpower!
If you could eliminate one piece of chaos from your daily routine, what would it be and why?
I currently do not have a morning commute. When I used to commute to work, I had a routine. I drank coffee and listened to news podcasts or read. I set myself up for my day. Now that I mostly work from home, I've lost my morning routine. I make coffee and immediately start working. So, I'm now in the process of trying to re-establish a morning routine at home. And because my living room is also my office (it's NYC!), I'm working on trying to keep my work and personal lives separate.
What is your vision for the future?  
I'd like to continue wearing dual hats, growing my combo of project management and theater production responsibilities. With theater, I want to be producing theatrical work that sparks dialogue about relevant issues in our community. I want to create work that looks at both sides of things. Our opinions may differ but that's ok… we are all human!
On the project management side, I'd love to keep supporting Susan and help her turn her dream of producing an annual conference for small business owners into a reality!