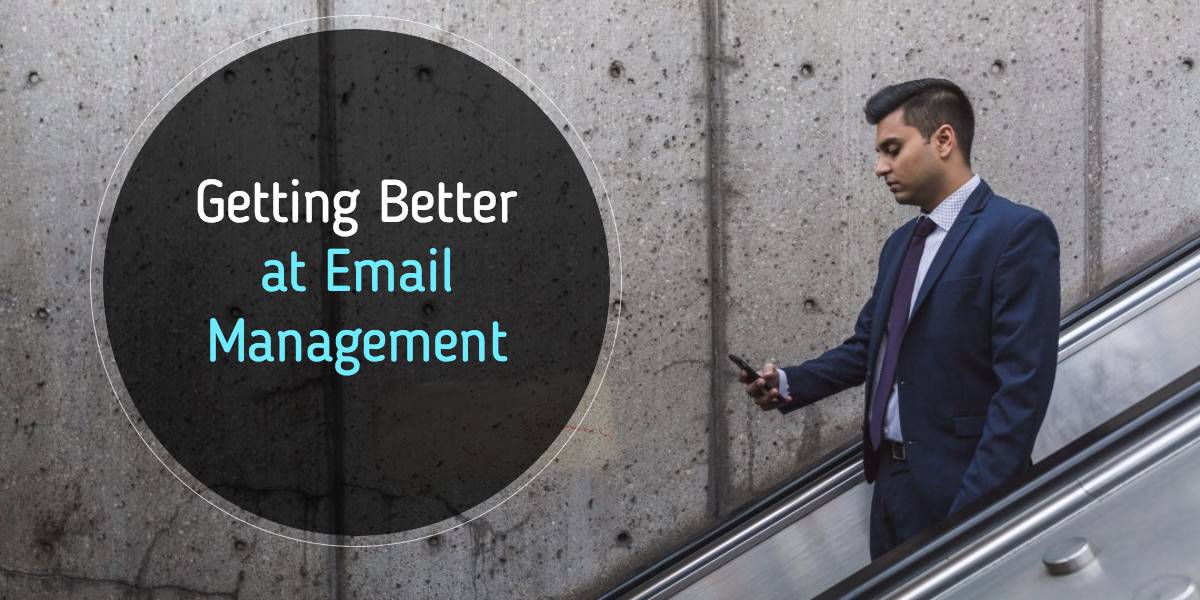 Email management can challenge even the best time managers. Let's face it, email revolutionized our world by allowing instant communication. But, let's also face it, instant communication results in the expectation of an instant response, which can be overwhelming at times.
I am probably alone when I say I don't have email management issues. I have my email open all day and my inbox is almost always empty. (Please note: this is not a good habit for those of you with email management problems!)  I am exceptionally good at making quick decisions. Plus, I don't easily get sucked into email as a distraction from the tasks at hand. Additionally, I have systems in place to handle the incoming information. From my research, those 3 things can readily affect your email management ability.
Quick Tips for Better Email Management
If you aren't someone who likes email or who can manage it quickly and effectively, turn it off. Schedule blocks of time in your day to check your email and only check it then.
When you leave your email box, it should be at inbox zero every time. That will protect you from the fear of opening it again at the next scheduled time to check.
There are 5 options for each email:

respond – quickly reply back to the person with an appropriate response
flag – flag it to return to later – perhaps something that requires a more detailed response
file – store the email in a folder system. Or follow my practice of storing the information in the tool you would use to reference it. Storing in appropriate locations avoids the need to have to look back into your email to retrieve the information.
junk – mark it as junk or unsubscribe to it altogether
delete – no action needed; delete it. (It's OK!)

If you are using email to manage your projects and fear you will miss out on the most urgent information from your clients, I suggest you read this post: 6 Project Management Strategies for Software Developers that I wrote for Elusive Moose. And then, stop it. Email is not an appropriate project management tool.
3 Challenges Affecting Email Management
You are tired of the task at hand, and you need a break. Take your breaks in more productive ways. Get up and stretch! Go outside and see the sun. Call your mom. Go to the break area and socially engage other humans in person. But, don't use the fact you need a break as an excuse to check email (or Facebook either!)
You take more time in making decisions and/or want/need to read through everything entirely before deciding how to handle it. I acknowledge that this is something I don't relate to, but I understand that I'm probably the weird one here. First, I would recommend challenging yourself to move through it faster by limiting the time you allot to it. Sometimes, just by a simple time limit, you are able to push through. In a recent webinar given by Carol Williams of Efficient Productivity Systems, I learned of this fun Gmail game you can play to help you clean out your Gmail online using the Chrome browser. This game/tool especially might help if you need to catch up to inbox zero. (BTW, Carol is a productivity coach and I recommend her if you need some coaching in that area.)
Fear of deleting is also something I struggle to understand, but again, it's probably because of my philosophy of "if in doubt, throw it out." I'm somewhat of a minimalist, especially with things that can be recreated. But, if this is your challenge, then set up a folder where you store "unnecessary" emails rather than deleting them. Or, set up an archive system in your email client to archive, rather than delete, those emails. This trick solves the problem of the emails lingering in your inbox.
Hopefully, these tips and tricks can help you with email management. If you need help, please don't suffer in silence! Reach out to Carol (via the link above) or to me for help.