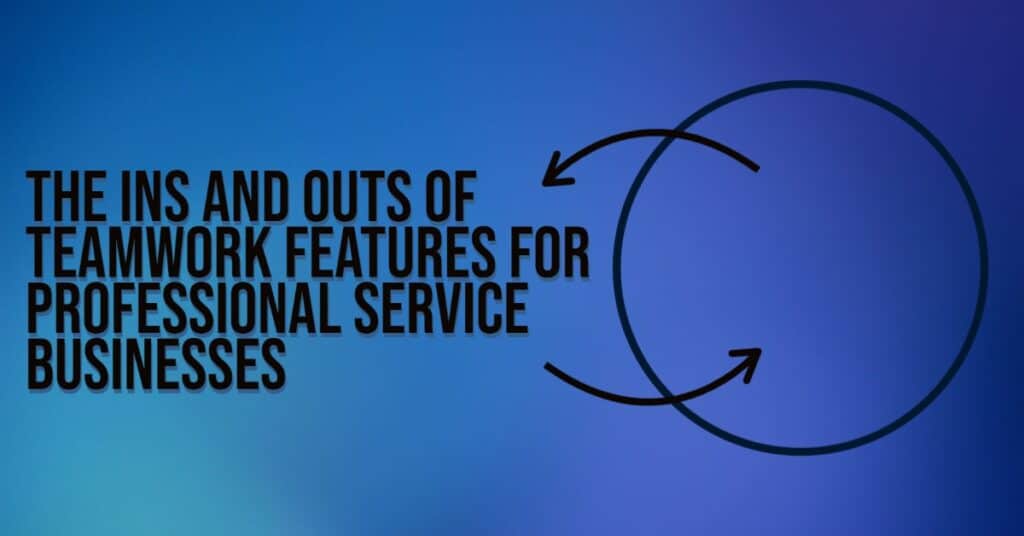 There are many Teamwork.com features to improve your organization's operations strategically.
Teamwork.com is a project management software that gives professional service businesses the tools and resources to organize their day-to-day operations, manage their teams, and increases profitability.
It's a platform we recommend to clients repeatedly because of its smart technology, innovative features, and ability to transform process-driven businesses.
The Ins and Outs of Teamwork.com Features to Implement Today
We like it so much that we've interviewed our team to share which Teamwork.com features get them excited about… software! We believe project management can be fun.
Teamwork.com Feature: Operations Project with Notebooks
"I always recommend setting up a Teamwork.com Project for your business operations that houses your business tasks and process documents for the whole team to access."

– Susan Fennema
When setting up Teamwork.com, start implementing operation processes immediately to help team members understand how to use the platform. The Teamwork.com Notebooks feature can help you do just that.
Categorize Notebooks to include the various policies and processes your business has in place. For example, rather than just a laundry list of different Notebook titles, you can categorize them like:
Policy
Sales process
Time tracking
How-tos
Vision
The more specific you get within these processes, the more organized and competent your employees will be. Plus, when you roll out updates and make changes to the Notebook, Teamwork.com will notify team members what specific words have changed.
We also recommend setting up Notebooks for both your business and your clients. The Operations Project is a life saver.
Teamwork.com Feature: Automations
"Automations take the guesswork out of project management and the need for people to 'check-in' on tasks, projects, and timelines manually and as often."

– Danielle Japczyk
One of the Teamwork.com features with many options, and a lot of flexibility is Automations. For example, Danielle typically uses an automatic notification when the time logged on a task exceeds the estimated time. This Automation will catch overages faster than someone manually checking every time.
Automations are also helpful in notifying clients about completed tasks to give them transparency to projects. Think about how much more productive your team could be with a layer of visibility that educates all parties about the timeline.
The key to Automations is to ask yourself, "What am I doing manually to track this task and notify others?" Then, if there is an Automation you can put in place, you'll be able to devote your time to something more worthwhile. The catch, however, is not to have too many Automations on a particular task to avoid chaos.
Teamwork.com Feature: Triggers
"I like using Triggers to immediately notify the people who have a follow-up task that it's their turn to take the reins."

– Caralee Grimes
Caralee set up Triggers for one client to help move tasks down the pipeline. The process automatically assigns the task to the next person for final approval and marks the task complete.
We encourage you to include your clients in Teamwork.com by giving them access via "client permissions." This access has allowed us to get away from Excel documents to communicate project task status and answer questions more promptly. In addition, the Triggers feature helps communicate the next steps in tasks with our clients.
Using Triggers in Teamwork.com allows a process to progress without fearing something not getting done seamlessly. Triggers can be event-based, time-based, or custom based on your organization's specific needs.
Teamwork.com Feature: Customized Reports
"Teamwork.com's Everything tab is the ultimate slice-and-dice way to look at all of the data in your platform."

– Andrea Stevens
If you don't find a Teamwork.com Report in the exact format you need, consider using the Everything tab. Click "Everything" on the main menu, select the type of information you want to see, filter it from the right-side dropdown menu, and sort it to your preferences. Plus, you can save your filters to revisit later.
You can view reports or export them to Excel for even more analysis fun! The Teamwork.com Everything feature is the ultimate tool for project managers who want to see what everyone is doing, find a keyword in a deleted task, look for a Notebook, track progress, and beyond. 
Choosing Teamwork.com vs. ClickUp
"I recently chose Teamwork.com over ClickUp for a client because it is simple to use right out of the box, reliable, and it just works."

– Lynette Lamarque Wilson
Both Teamwork.com and ClickUp are great options for project management. You can use existing Templates or customize your platform using Custom Fields and Automations in both systems. Choosing one over the other is based on your specific preferences and needs.
Lynette specializes in both platforms and likes to compare them to Android and Apple. People who are more tech-savvy and like to customize their workspaces would do well with ClickUp. On the other hand, Teamwork.com is a better choice for people who want a product without much of the fiddle factor (including giving their team access to make changes).
While any software product will experience occasional downtime, Lynette has found Teamwork.com to be highly reliable.
We've had a lot of success organizing clients with Teamwork.com features, and we're confident we can help your business too.
If all of these features seem overwhelming, or you want advice on which features are right for your business, one of our Chaos Killers will help. Beyond the chaos, there's a bright future ahead for you and your business.