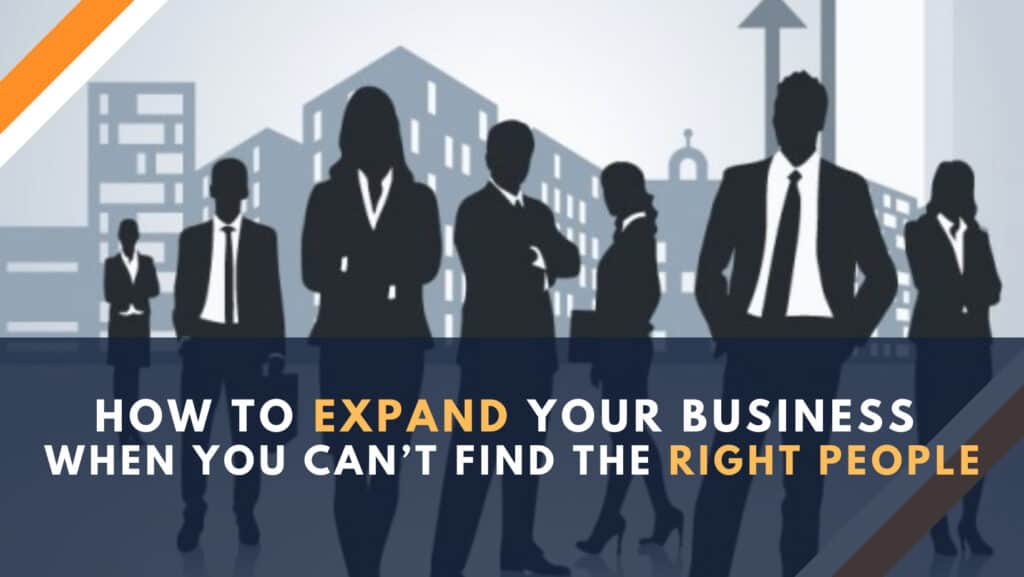 As the economy climbs back on its feet and businesses try to ramp back up to pre-pandemic production, many industries are struggling to find the help they need. But why?
The reasons behind the current worker shortage are varied and complicated.
The pandemic forced millions of people out of work. But since then, many have opted to remain out of the workforce.
Many people are worried about their health. Some are caring for their families. Others are reassessing their career path altogether, choosing to get out of busy cities and overly demanding jobs. Another factor is enhanced unemployment benefits, which some say are providing minimum wage workers with more income than if they went back to work.
It's a complex situation, and it may not last forever. But regardless of how or when it gets resolved, this worker shortage puts business owners in a predicament—especially if you want to grow.
Finding a New Path to Growth
If you're trying to expand your business right now, choices are limited. A small hiring pool means it's even harder to find the right level of talent with the right skills.
To solve the problem, you might think you can take on more work yourself. But how much more can you realistically manage? You might try and put the extra burden on your team. But with the job market surging, the last thing you want to do is burn them out and push them out the door.
What can you do?
The good news is that your business is already running. You may not be able to grow as fast as you'd like, but you don't have to take it on yourself, and you don't have to downscale.
Instead, look at improving your operations. When you implement systems and processes to make your business run more efficiently, you can do more with what you already have.
Three Ways Operations Can Keep Your Business Expansion Goals on Track
1. Do more with what you have
If you take the time to sift through your business processes with the goal of efficiency, you'll likely uncover several ways to simplify and systematize how work gets done.
When we consult with clients, they're often surprised to discover how much time they get back by improving operations. With sound processes in place, you need fewer people to do the same amount of work. That means you can reallocate some of your team's workload to focus on expansion efforts.
Implementing these operational improvements now yields long-term benefits. Over time, you'll be able to see where you can automate additional tasks and free up even more resources down the line. Another side effect? You're setting yourself up to scale when you're ready.
2. Outsource for now
The "fractional" team model is on the rise, and for a good reason. Businesses can now get the specialized skills they need to get the work done without hiring more employees. For example, we act as your fractional Operations Department, managing all things operations, including implementation. You can start with as few as five hours a month and incrementally add more as needed.
A fractional business model is flexible and scalable, meaning you can outsource work at a scalable pace until you're ready to hire and/or find that perfect full-time employee.
In other words, you get a stopgap solution to reinforce your new systems, so operations run smoothly. Because you don't have to take on more tasks, you can focus on quality work, keeping clients happy, and ensuring your team's workload remains manageable until you're ready to grow.
3. Build the foundation for future growth
When your new systems are in place and you're delivering work at a steady pace, you're ready to start looking for the perfect long-term hire—even if it takes a while in this job market.
Hiring is another area where fractional operations can help. Because we work so closely with our clients to set up improved systems, processes, and automation, we know their business well enough to help with the hiring process. When you're ready to add a full-time operations role, our team helps you with the new employee selection process (resume culling, interviewing, onboarding), training, and supporting them to take over our work. And while your new hire ramps up, we continue to manage the work to avoid any delay with your deliverables.
Keep Your Business Expansion on Track
The worker shortage may be slowing you down, but it doesn't have to derail your expansion efforts.
With a fractional operations partner, you can implement processes and systems for business expansion that enable you to do more with what you already have, outsource work while you search for employees, and build a strong foundation for future growth.