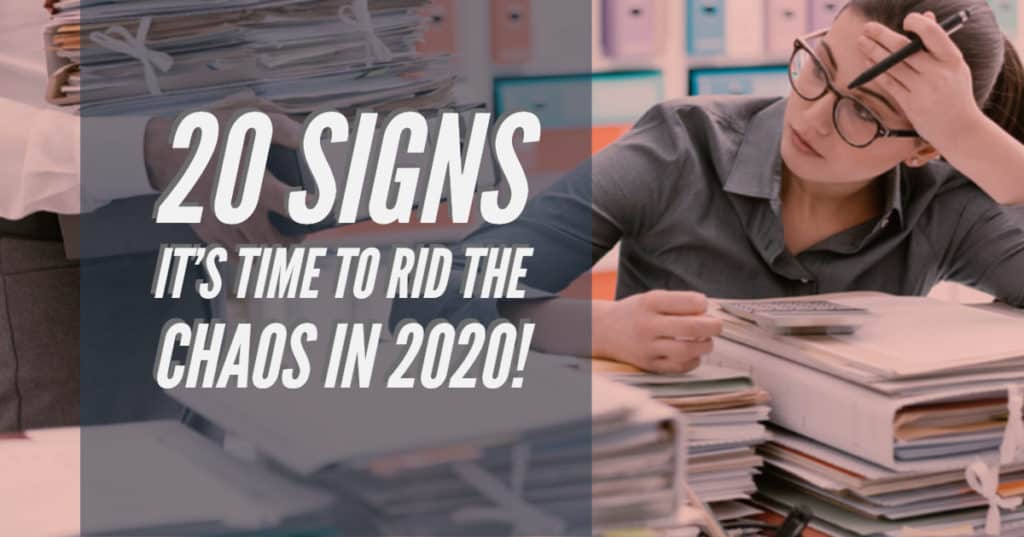 It's now January 2020. If you consider yourself more of an optimist, the new year may mean you have a different (but exciting!) priority to tackle each month! SO MANY NEW OPPORTUNITIES AND SHINY OBJECTS! If you're a realist, the new year might mean having to face some lingering problems from 2019. 0r 2013. I think you can see the potential business operating issues with both of these sentiments. Whatever your view is of the new year, I'm here to give you some 2020 vision in the form of project management tips for identifying your business chaos.
The beginning of the year is a perfect time to think about where chaos exists in your business structure. But first, what is chaos? I usually describe it as a disorganized work environment that can wreak havoc on deadlines, priorities, efficiencies, and productivity. It can present itself as a feeling, or, as a situation (one that SHOULD be happening or SHOULD NOT be happening). To help, I've put together a list of 20 signs that it's time to rid the chaos in 2020! Think of this as your WebMD for diagnosing your small business chaos, but no doctor office co-pay needed.
20 Signs (and Project Management Tips) for Ridding the Chaos in 2020!
#20: Fear and anxiety of even reading this list, as you know there's a good chance you might identify!
#19: Your inbox is your "to-do" list. There is nothing more overwhelming or ineffective than digging through never-ending email threads to piece together a project.
#18: You track your projects in Excel (extra cringe!). Excel has a place in your business, but using it to track projects is not one of them! The biggest issues with Excel include a lack of collaboration, lack of email alerts, and a lack of ability to create reports.
#17: Paper… everywhere. Post-it notes, unopened mail, reports, proposals, worse… memos. I am getting a papercut just thinking about it, ouch!
#16: Not remembering how to do something you've done before. Onboarding, billing, QA. These are repeatable processes. If you don't know how to repeat it, you have a lack of process.
#15: You are struggling to grow your business past 2-3 people. People keep leaving, or you don't know how to keep the ones you have busy.
#14: You've said your current sales and project management tools "don't work," but you keep using them anyway, but only sporadically.
#13: Worse, you don't have ANY sales or project management tools (see bullet #18).
#12: There's the opposite problem — you have too many tools. You aren't sure where to look to find what you need or where to store information as it comes to you. And, your monthly SaaS bills are getting out of hand.
#11: Project information is not centralized.
#10: There is always scope creep — the same can be said for deadline creep.
#9: Clients, leads and/or tasks fall through the cracks.
#8: Collaboration is not happening.
#7: You have fantastic employees, but they are constantly confused about priorities or deadlines. Or, you find your team is constantly failing you.
#6: An overall feeling that your work is taking over all aspects of your life.
#5: Project goals and objectives are not clearly defined.
#4: You're task management-focused instead of risk management-focused — you need to be one step ahead. Always.
#3: Project errors, like missing deadlines or unfinished tasks, are blamed on "miscommunication." (57% of projects fail due to breakdown in communication).
#2: You find you are always reinventing the wheel.
#1: A sense of overwhelm – I apologize that reading this list may have just intensified the feeling, but it may also have just been the most important step you take!
If you related to even one of these things, you probably have a little chaos in the business. Chaos means you're treading water. And when you're treading water, you can't focus on growing your business or satisfying your clients. So ask yourself, which of these situations resonated with you? Why? It is because you have a lack of training on how to use your current tools? Or, no centralized location for project collaboration? Or is it due to not having someone responsible for communicating project updates to stakeholders? There are many causes, but luckily, these are all very solvable.
Adding a project management service should be one of the first things to consider when struggling with how to solve overwhelm and chaos. You might not be familiar with a project management function, and that's ok! Getting started is always the hardest part, and Beyond the Chaos helps you ease into it. Going from zero to 100 is never a formula for success, which is why our project management services start at just 5 hours a week. It's amazing what adding even just one structured status meeting (with recaps!) each week can do to help you gain control of your chaos, and eliminate that nagging feeling you're forgetting something!
Beyond the Chaos offers the assistance of experienced project managers, so you can meet your timelines, control your scope, and manage your budgets. We are a judgment-free zone and trust us, our business wouldn't exist if any of the situations in our top 20 countdown were rare. We offer a free consultation and can help your entire business, or, certain individuals.
Furthermore, don't worry that the project management service will be overhead. Yes, it is billable! Additionally, your clients are already paying for it. But, you just might not know it yet.
Make sure to check our full list of project management services. Here's to a chaos-free 2020!