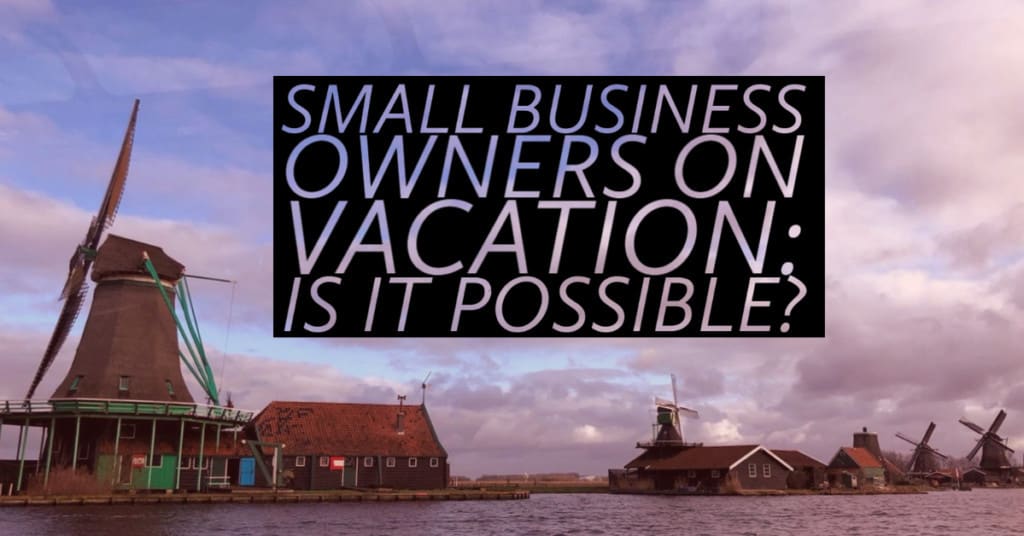 Ferien! If it sounds foreign, that's because it is. And what it means might actually sound even more foreign, especially to my fellow small business owners. Ferien means "vacation" in German. My husband and I recently returned from a week in Germany and The Netherlands. Cheese, beer, windmills, and churches… we saw it all. If you're like me, the idea of small business owners on vacation can cause an immediate spike in heart rate. What if there's a client emergency? What if my website goes down? What if someone submits an RFP and I don't see it and lose out on new business? We are no longer corporate employees getting three or four weeks of paid-time-off a year, with someone else running the company while we play.
For small business owners to vacation, we must step away from the business we built from the ground up, and many times, with no one left in charge. The stakes are much, much higher. High stakes are why only 57% of us small business owners take vacations. And of those of us who go on vacation, almost 70% of us are checking in with work at least once a day. Sound familiar? We need to do better. For our mental health, for our relationships, for our employees, and our creativity. So, can small business owners truly "get away"? The answer is yes, BUT, it comes with some planning and boundary setting. Here's how I balanced this vacation with my work and personal life.
I stopped making excuses for not getting away 
My initial answer to thinking about taking a vacation is usually "I can't do that'. Or, "I can't afford it." Or, "I can't afford the time to plan it." All of those reasons are deep-seated in my head and I know they are not correct. When I'm starting to feel that way, I change my mindset to "what could I do instead." And that's what I did.
The reason for the trip was that my husband had some training scheduled in Germany for work. So we approached it as a great opportunity to do something together. And a very inexpensive one at that. We bought my flight on points, hotels on points, and stayed with some friends in The Netherlands. These options took care of the "I can't afford to go" objection.
To combat your own vacation objections, start by identifying your slow time. When are you free of conferences? What project can be placed on hold? How can you do it more cost-effectively? Do you or your significant other have a work trip booked where you can add something to the beginning or end? What is holding you back from taking some deserved time off?
I communicated my time-off in various formats 
I started to let people know I would be gone immediately after booking my flight. Much of the stress associated with small business owners on vacation lies in the unknown. What will happen when I'm gone? Who's going to do what? Communicating as soon as your plans are set will help you get in front of it.
I started prepping my clients for my unavailability as soon as I booked the trip over Thanksgiving. I did the usual email and phone notifications, but I also took it one step further and included it in my proposals. All of the business proposals that I wrote after booking my trip stated that I would be on vacation during these set dates.
Your clients are real people too, who also take vacations. Talk to them. Wrap up projects, or, post-pone projects until you get back. Just don't let your clients find out you're on vacation by your out of office message.
I delegated and automated 
Leaving the office for vacation is the best test of your delegation skills and how well you have implemented automated processes in your business. Can your business still operate without you there? Luckily, mine can. For me, that means my virtual assistant still took care of my emails and my social media was posted. My bookkeeper runs my payroll, so I didn't need to worry about that either.
If you're handing off tasks while you're out, evaluate how they went while you are gone. Maybe that task you delegated during your time off can become someone's permanent task instead of yours. What didn't get done while you were away? What balls were dropped? Use those are learnings for what gaps you need to fill.
It's easy to fear that your business will fall apart without you, but if your team is prepped on what a true emergency is, and knows how to reach you, things are probably going to run just as smoothly as they would if you were there. Trust the process and the team you have assembled. They exist for this reason.
I gave myself permission to check-in 
Some small business owners may actually feel more relaxed on vacation if they are somewhat connected to the office while away. I am one of those people. It is OK to check-in, but put some parameters around your working time. Pick a certain time of day, do what you need to do, and then be done. If you need reinforcement to help you honor your parameters (besides your significant other telling you to put your phone away), apps exist that can shut off phone distractions. You can also delete email apps or leave your phone in the hotel. Do what you need to do to respect the boundaries you established.
For me, I still applied calendaring to my vacation. Calendar blocking does not stop when I'm out of the office… I am sure this surprises absolutely NO ONE. I focused on checking in mostly in the mornings, with afternoons and evenings left for fun. Also, I did my work mostly while en route to somewhere, like the eight-hour flight, and the train to Frankfurt and to Munich. The beauty of virtual workplaces is that you can truly do work from anywhere. I felt I was still on top of it but was also still on vacation.
I relaxed
Of course the daily check-in's help, but I truly did relax and took time for self-care. My husband and I had a wonderful dinner at a 1-Michelin Star restaurant, Schwarzreiter. It was amazing. (And my first official Michelin Star experience.) We took a brewery tour in Munich and saw an attic church and the Anne Frank Museum in Amsterdam. Plus, we enjoyed a day in Leiden, just wandering around the old haunts of our friends who met there.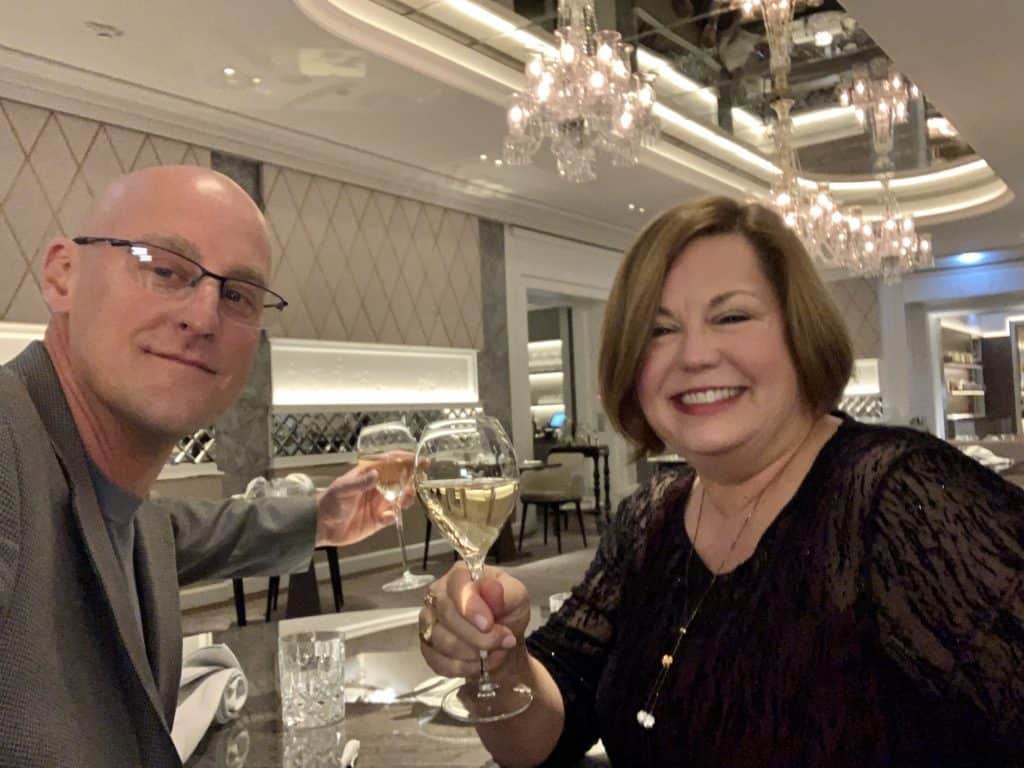 Vacation brings a change of pace and a change of daily inputs. It lets your mind think about things you don't normally think about. For example, seeing history in Europe brings a new perspective that gets the creative side of your mind working. But the change in pace is the true recreation, which is always uplifting. And to make the transition back into the real world much smoother, I gave myself a buffer before and after the trip to deal with jetlag and get my house in order again before diving into work.
I reflected on how I've progressed as a small business owner 
Most importantly, taking time off gave me time to reflect on being a small business owner. Many wonderful things come with being a small business owner, and I wouldn't trade it for the world. But those things come at a cost. Some of that cost is that you're never not working. But because we are a virtual business, I am blessed I can work anywhere in the world. I am lucky I GET to work while we go on vacation, as opposed to HAVE to work on vacation, as one of the OneLife Mastermind members reminds the group regularly.
But the biggest lesson from my week in Europe is that I am proud to say that I no longer work in the day-to-day. Three years ago I could not have done a trip like this. I could only take one day off here and there. But for Beyond the Chaos to grow, I need to be out of the day-to-day. When that happens, you're not the one any more who's developing software. You might be writing a marketing plan, but you're not creating the copy or art. Your team does that for you. So take that trip. Or that staycation. You've earned it.  Remember, if your business can't run without you, then you don't own a business…it owns you.