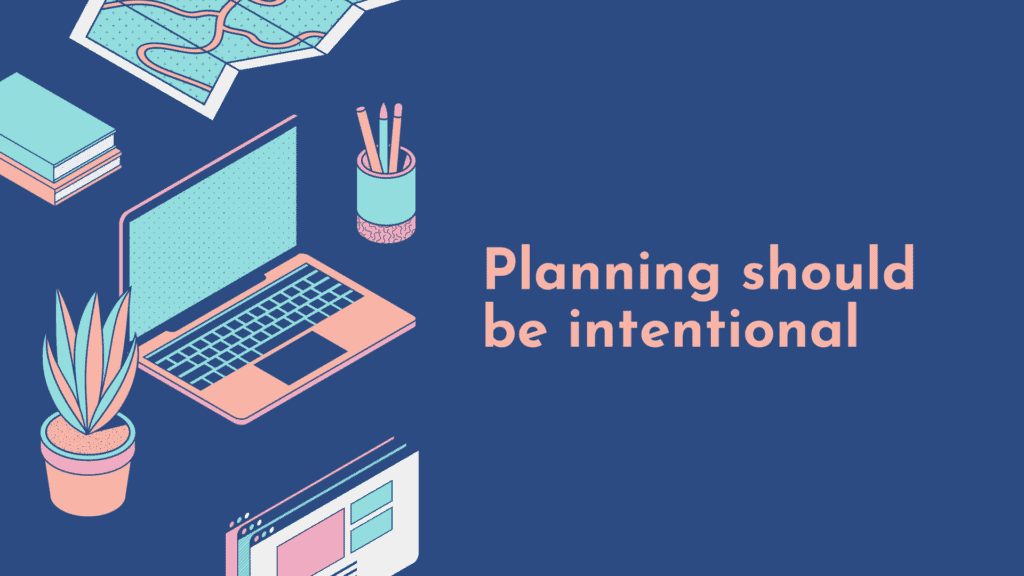 One of the biggest complaints we hear from clients is that they don't have time for planning. These clients have tools and a process in place, but they are not using them. Why? They have "too much work to do." But their workload would actually decrease through pre-planning. Intentional planning is part of work. Making time for planning upfront will prevent spending more time later to sort out the results of no planning.
Planning is part of the project work and you should consider it as such.
In preparing for battle I have always found that plans are useless, but planning is indispensable.
– Dwight D. Eisenhower
Eisenhower planned the biggest project known to man! Remember that D-Day was not originally scheduled for June 6, 1944, but had to be moved because of weather. Because of planning, the Allies were able to adjust their plan to accommodate it.
The Act of Planning
You learn things through the act of planning. Think of it as a rehearsal to play out and better understand:
what can go wrong
the resources required to accomplish your goal
the tasks you might have originally overlooked
contingencies that become apparent
The planning process prevents you from running around like a chicken with its head cut off. It's not a pretty picture, but it applies. If you are frenzied, frantic, and chaotic, then you are much less effective and efficient.
Here's an example. A junior project manager was assigned to a new client. One of the tasks was to "build reports". The tasks were supposedly mostly done, and due very soon. The developer and the client had been discussing the project for weeks. The project manager barely had the opportunity to ask for a list of what reports were due before the due date.
She should have itemized each report, and had a discussion with the client and developer about each report, and required them to stop and have a clarifying discussion. Instead, she allowed them to keep working. (rookie move)
A week after they were due, lack of completion frustrated the client. Comparatively, the developer didn't know what remained to finish because they had a running commentary on the reports as a whole.
If the project manager had just taken the literal 3-minutes required to list out each deliverable separately, that whole mess could have been avoided. Doing it after the fact did not have good results!
Intentional Planning
To be more intentional with your planning, schedule a 1/2 hour every Friday afternoon to prep for the following week and align your to-do list with reality.
Look at your meetings.
Look at your workload and at your commitments outside of work.
Look at your to-do list.
What can you REALISTICALLY accomplish? And don't forget that something will come up and throw you off track. Adjust your schedule and list accordingly, rather than allowing the chaos to get a hold of you.
If you just can't make yourself do it… or if you hate doing it… then it is probably time to get some "help". The help comes in the form of another person taking a look at the tools you have in place and reminding you of the plan on a regular basis. If you find the right person, then he can help you rearrange and reprioritize. Depending on your workload, the person doesn't have to be full-time. Here are some places to find help:
Being intentional about your planning will change your world. It will enhance your client relationships. Your team members will work more efficiently. Your projects are not as likely to go over budget or get out of scope as often. It will also help the main goal: completing projects!
Learn more about our operations consulting and done-for-you project management provided on a scalable, fractional basis.
See our self-guided resources in our complete guide to successful small business operations.