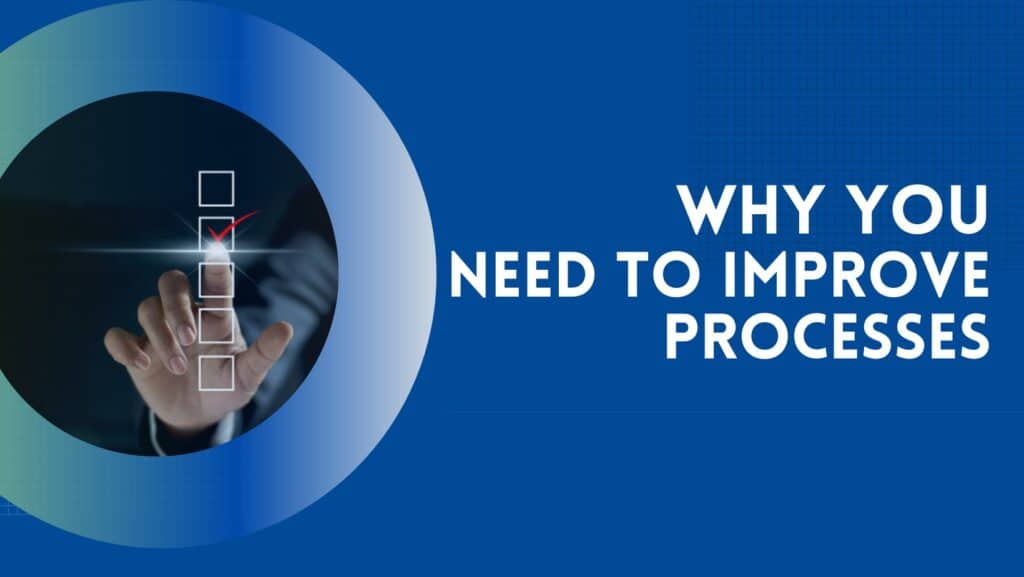 When businesses improve processes it provides a touchstone to improve, advance, and succeed. Yet, only 4% of businesses measure, manage, and improve processes. Why? Creating and documenting processes isn't fun and it may seem unnecessary. But as your company grows and problems get more complicated, it's often due to the lack of process or the need to improve them. How do you know if you need to improve processes?
The Symptoms of Needing Process Improvement:
Are you struggling with finishing projects?
Are mistakes being made?
Does scope creep cut into your profit?
Is your small business struggling to grow?
Do you have high employee turnover?
Are your clients frustrated with you? Are you frustrated with them?
Do you have several employees in the same role, but none of them do things the same way?
Are you finding internal communications to be more of a challenge than back when you were only 2 people?
Are you overwhelmed with email, but have to stay on top of it because of projects?
If one of your team members wins the lottery, do you know how to take over their work?
Are you flipping between assorted software programs to figure out what you need to do today?
Are you just responding to the squeakiest wheel, all the time?
Is your thought process constantly interrupted because clients want an update?
Do you just want your life back?
The benefits of process improvement services go above and beyond what you might expect. If you want to nail down a specific problem you're having in your organization, process improvement can definitely help. However, the benefits go much deeper than that. It drives improvement in team cohesion, retention rates, and new growth opportunities as well.
See how we helped small businesses like yours feel the relief that comes when you improve processes.
Process Improvement Brings Success:
Proactively manage your projects to successful completion.
Happy clients are confident in your work and want to renew or start new projects.
Your email is reduced by half or more.
Increased employee retention from improved communication and clear actions.
Company branding is more consistent in delivering the same experience to all of your clients.
You get over the hump and grow your company to the size you imagined it to be.
And, you could take back your life!
Get Started
It's difficult to see a new way of doing anything without an outside perspective. There may be gaps in the processes of your business you didn't even know to think about. Here's how we can help:
To see where process improvement is needed, take our free operations audit. You'll get personalized recommendations to act on right away.
Discover the fundamental processes all businesses need on page 4 of our ebook, 3 Ways to Control Chaos in Your Small Business.
When you're ready to improve processes, we help with both the consulting and implementation. Don't feel embarrassed to air your "dirty laundry". First, know you are not alone. Second, know that we keep your situation confidential.
No matter how big or how small your challenge is, we'll meet you where you are and help you get to where you want to go for operational success. Reach out for a free consultation today.