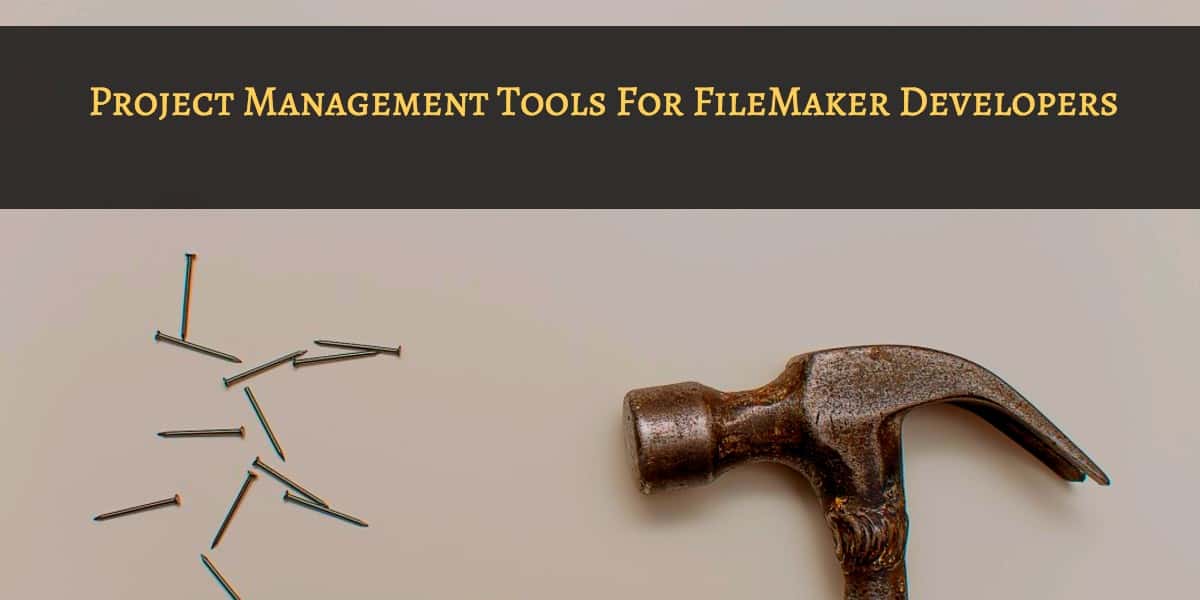 Which project management tools should I consider? Which is the best one? Which one fits my needs perfectly? These are all questions I get in my role as a project management consultant to FileMaker custom software developers. Here's a brief rundown of the ones I'm currently working with and some reasons to – or not to – choose them.
The bottom line with any of these project management tools is that the process and structure that you put into your project management practice is much more important than which of the tools you choose. And there are many more choices out there. The keys to using them properly are:
Choose one.
Discover the gaps for your company.
Document the process to fill those gaps or research supplemental software.
Make sure you are following solid project management techniques, or the whole exercise is moot.
Project Management Tools
The software solutions in my toolbox these days are Basecamp 2 & Basecamp 3, Teamwork.com, Smartsheet, JIRA, and FileMaker custom solutions. In general, they will all work for FileMaker software development needs. All of these project management tools can be enhanced through add-ons, plugins, and API integration. Pick the one that you like the most and then research what you think is missing and you might find you can just quickly integrate it.
Basecamp 2 & Basecamp 3
I consider these very different project management tools, and I definitely prefer Basecamp 2, especially if you are communicating with clients through the tool. In general, both are a simple way to enter the project management world. There is little to no learning curve and a few processes make it simple. Both allow for project templates. Both allow for clients to have a limited view of the project so that you can keep some of "how you make the sausage" behind the scenes while you serve the delicious sausage upfront.
Both have different add-ons, apps, and integrations that work with the service, including some popular time-tracking solutions and Gantt charts. Check them out: Basecamp 2 and Basecamp 3.
There are some limitations. Task lists cannot have subsets. Email communications to the client can become overwhelming. Clients tend to want to send messages and discussions, rather than adding to-dos to report things. And, as with any tool, since those things can't be assigned and dated, they can easily get "lost in space."
Basecamp 3 allows you to assign more than one person to a task, as well as a date range. There are pros/cons with both of those choices, but it does add some flexibility. It also has a chat built-in, along with some other communication features. Basecamp developed this solution for the way its team works and for an internal team, working remotely, it is an excellent choice. However, once you start interacting with a client, Basecamp 3 is a bit more challenging, which is why I recommend Basecamp 2 more often than Basecamp 3.
Teamwork.com
Teamwork.com is like Basecamp on steroids. It does everything both versions of Basecamp do. You can add subset tasks under tasks. And, it has a bunch of built-in features like milestones, invoicing, and time tracking. But, you can still integrate with Harvest and even Quickbooks, among a LOT of others. You can view tasks as Kanban boards if you prefer that visual approach. Releasing soon is a resource management module, which I'm looking forward to trying out. Teamwork.com's downfall is only that it is a little more challenging to learn than Basecamp, but only because it has so much more power. This is my recommendation if you have already started trying to implement a project process and you want MOAR. (And, Basecamp projects can be imported into Teamwork.com.)
Smartsheet
Bringing an Excel-esque approach to project management, Smartsheet is good for large projects with a lot of contingencies and modules. If you like Gantt charts, Smartsheet's tool is easy to use and well developed. You can create subsets of tasks and subsets of those tasks. (I'm not sure there's a limit to how many subsets!) An awesome feature is that you can create a URL with a form attached, allowing clients to enter bugs or requests without really having to use the software.
Limits to Smartsheet is that there is no audit trail, so you don't know who changed what or when without tracking every change to the sheet. Additionally, it doesn't capture emails. I find there is a lot of cutting and pasting into the comments feature as emails go back and forth on a topic. Even though you can email out of it, it doesn't capture the responses.
JIRA
JIRA is one of the strongest and most powerful project management tools. It is great for versioning builds of software products. You can track new features and bugs to fix for each software version. A help-desk service is even included. It integrates nicely with Harvest and other business tools and has a Kanban board. However, it is not very user-friendly. If you want your clients to be involved and use the software to help you manage your project, I would recommend against this choice. There is quite a learning curve involved even for developers. It does not just plug and play.
Custom FileMaker Solutions
As much as I love FileMaker custom solutions, I usually advise against trying to build your own unless you have a solid block of time and a project plan to develop them. FileMaker developers are very busy these days. Taking the necessary time to work on internal, non-billable solutions usually results in unfinished, buggy, frustrating software that doesn't do the job as effectively as an off-the-shelf solution does.
A major exception to this rule is if you actually have a solution that you sell. If you do, you should be eating your own dog food, so to speak. It helps you find bugs and helps you innovate the next version.
*****************
No matter which of these project management tools you choose (and even if it is not on this list!), Beyond the Chaos can help you create processes and templates that work best for the way you work and the clients you serve. We know some tips and tricks to get around some of the downsides of each software too, so they aren't always as limiting as they might seem. Just ask us how.