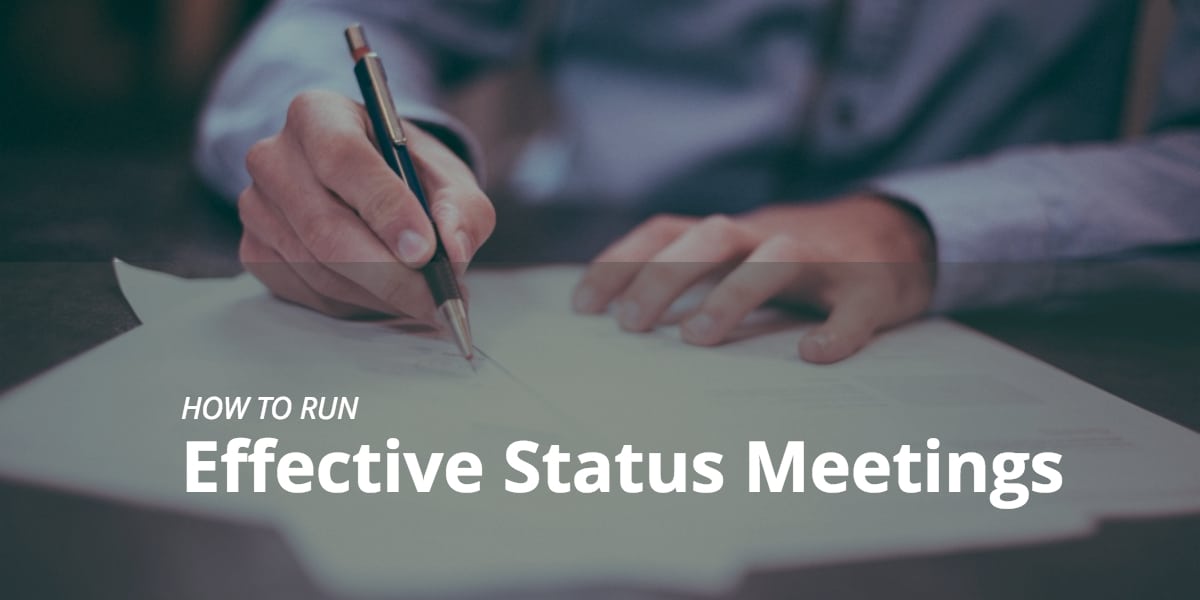 Regularly scheduled, standing status meetings are something I always suggest during project management consulting. But, just having them isn't enough. You need to run effective status meetings, or else they are a waste of time.
The Purpose of  Status Meetings
Status meetings serve several purposes. What's important to note is that the status of the project is only part of it. A primary goal is to communicate with your client and to develop a rapport. You want to get to know your client's likes and dislikes.
Additionally, learning how he will react to seeing versions is important. Can he visualize? Or, does a layout need to be 100% complete before he can truly see it? You can't know these things without developing a relationship and partnership with your client.
The second most important part is to demonstrate progress. You can't kick off a project and then show up months later with a completed solution or campaign and expect success. Showing iterations to your client during creation not only helps to demonstrate progress, but it confirms that you are on the right track.
A good rule of thumb is that if they are hounding you about something, you aren't communicating properly. A way to avoid that is to make sure they know when they will be speaking with you next by having those standing meetings on the calendar.
Of course, you should also touch base as to where you are against the budget and the timeline in each meeting as well.
So, what's necessary to ensure effective status meetings?
Necessary Items for Effective Status Meetings
1) Invite the right people. Make sure that everyone in attendance is there for a specific purpose. Minimally, you will want to include the client lead, the project manager, and the designer or developer. Stay to that minimum if possible, including others only as needed.

2) Work with a clear structure. Make sure you have a designated start and end time. Stick to the schedule! Also, make sure you have a clear agenda. It doesn't have to be a formal document. It can be a to-do list in your project management software or a bullet-point list in the invitation's description. But, it needs to be written and shared in advance of the meeting. Here's an agenda structure to follow for regular status meetings:
Discuss progress vs. milestones and budget
Discuss any stops
Clarify any questions about execution
Demo progress
Confirm next meeting date/time
3) The project manager should lead the call but will likely not do most of the talking. While others are talking, the project manager's job is to manage the available time, speak up when an out-of-scope item comes up, reschedule longer discussions to another time, track the meeting vs. the agenda, and mostly facilitate conversation. The project manager is often the "translator" between the client and the "technician", (aka, the designer or the developer). Don't be afraid to speak up if the conversation isn't tracking and rephrase or reword a concern to put it into the language of the technician or the client to help the conversation flow better.
4) The technician should demo or present the work. He knows it best and he should be the one to show off everything created.

5) The project manager is responsible for documenting the discussion, noting any changes, clarifying feedback, and reviewing next steps. If the project manager tries to present the work, it becomes very challenging to also track those items.

6) Lastly, the project manager is responsible for follow up. Set 15 minutes aside after each meeting to review your notes and to redirect them to the proper places. For example, you might need to send a summary email to the attendees. Put new tasks and document feedback in the project management software. Add new ideas to a wish list for the future. In other words, clean up your notes and put the items in the appropriate locations for the team to reference.
Summary
Meetings can be a drain on resources, but during a project, they are necessary to keep everyone on track. If done properly, you can host highly effective status meetings.
For some additional insights, I recommend reading these suggestions from an article published in Inc., 6 Things You Need to Know About Leading a Meeting.