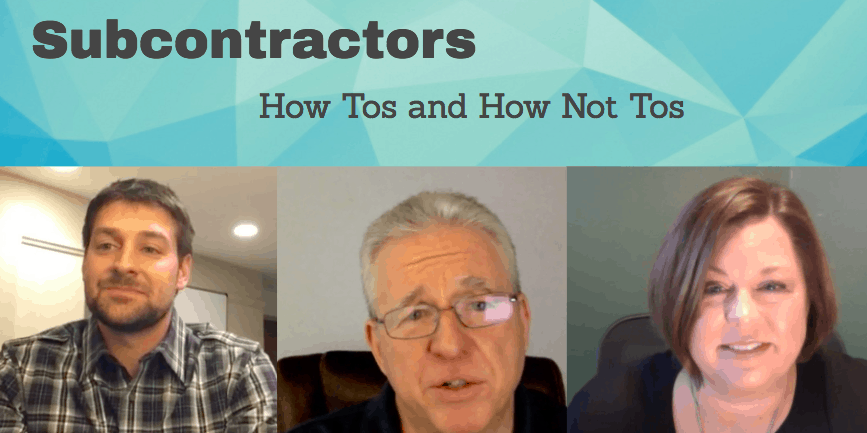 Don Clark from FileMaker Pro Gurus and I have joined together to create a series of three videos discussing subcontractors and the FileMaker world. If you are not a FileMaker developer, that's OK. These tips would apply to any software development subcontractor scenario, so you will still learn something.
Hiring and Managing Subcontractors
The first video, which launches December 4, 2017, at 11 am EST,  discusses vetting and hiring subcontractors and features Brandon Hayes of Kalos Consulting. He will talk about the services his recruiting company offers the FileMaker industry. Additionally, he will share how to find and onboard subcontractors.
Don and I will discuss in Part 2 how to set clear expectations with your subcontractors. Additionally, we will discuss the onboarding process in more detail, from confidentiality agreements to 1099s to how to pay subcontractors. Expect this video on December 11, 2017, at 11 am EST.
Being a Subcontractor
In part 3, we will discuss things more from the perspective of being a subcontractor and provide some tips on how to navigate challenges when you are working in four (or more!) project management systems, how to assure you don't overbook yourself, along with some communication tips to ensure you will be successful. This video will go live on December 18, 2017, at 11 am EST.
You won't have to invest a lot of time. We will keep these short and to the point – around 5 minutes or so. Keep an eye out on the Beyond the Chaos Facebook page for these videos. (By the way, follow the page while you're there if you haven't already!) While they will go live at 11 am EST today and the next two Mondays, the recording will reside on the page and you can view it later as well.
If Facebook isn't your thing (and I understand if it is not), I will be collecting these videos and will provide links to watch them via another means after the campaign is complete.
Please join Brandon, Don and me as we help you navigate through hiring – or being – a subcontractor.
Update 1/31/2018: Please find the video series here.
---
Also published on Medium.