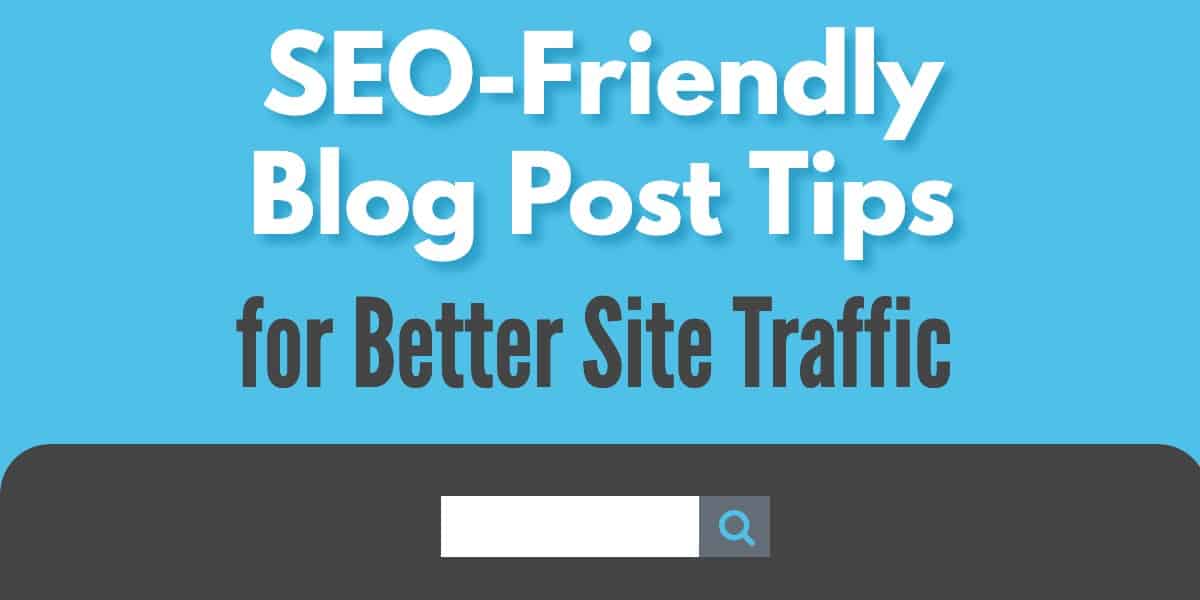 Writing an SEO-friendly blog post brings a whole new level of marketing to your site than just plain writing a blog. Considering that most of us write blog posts to share information with our audience, shouldn't we want that audience to be as big as possible? Creating an SEO-friendly blog post will do just that. It will help drive more traffic to your site through SEO (search engine optimization). Not only does it help get your message out, but your site traffic will increase as well.
Here's an important step before we get to the tips, though. If you don't have the Yoast plugin for your WordPress blog, download and install it now! And now… to the tips….
Plan First
I prefer to write directly in WordPress. While it isn't required, I learned in my freshman journalism class that if you can write where it's going to end up, you will save yourself a lot of steps. (We were never allowed to write on paper. We had to type our story directly into the old-school word processor at the time. In fact, we even had to pass a typewriter speed test to get into the college!) But, if you don't (or won't) write in WordPress, just make sure you that you develop a process to go through all these steps when you paste it in.
Decide on your keyword or key phrase. Based on your topic, start googling words and phrases that go with it. You don't want something where a bunch of ads pops up on the results first. You want to creatively find a word or phrase that works. Get into your audience's mind… how would one of the members search for your knowledge. For the purpose of this article, I'm using "SEO-Friendly Blog Post".
Add it to Yoast in the focus keyword area. Make sure that Yoast doesn't alert you to a problem with it, like a stop word. Those words are usually "for", "and", "or", but there are others.
Title your SEO-Friendly Blog Posts next. Add a title to the blog that uses the keyword, preferably at the beginning. And then, create a permalink (the URL for your post) that has the keyword/phrase in it.
Write Second
After the initial steps are done, start writing. Be sure you are writing to your audience and in your voice. But, use the keyword/phrase throughout the copy wherever you can. If you feel like you are forcing it or it is overly redundant, just try it in a different place. You only need about 1% density for an SEO-friendly blog post, so don't overdo it either. Furthermore, be sure to break up your story with headings and try to get that keyword into a heading, if possible. As you write, Yoast will be measuring your SEO on the fly.
Part of writing is, of course, editing yourself. If you aren't using Grammarly yet, again, stop and add that plugin. This time, it works with your browser, not WordPress, but it does a great job of spell checking and grammar checking. Without someone else to proofread my work, sometimes Grammarly is all I have to make sure I don't make silly mistakes. Proofread your post and use Grammarly to correct your mistakes.
Make Writing an SEO-Friendly Blog Post Fun!
After you've finished writing, now you can make it a game to turn that "SEO" area that Yoast provides in the Publish box to green. This part will start to go faster over time, as you catch on to the game. Just use Yoast to "fix" the red dotted items under the Analysis area until that SEO is noted as "Good". So, follow the instructions that Yoast provides and you'll be off to great SEO-friendly blog posts.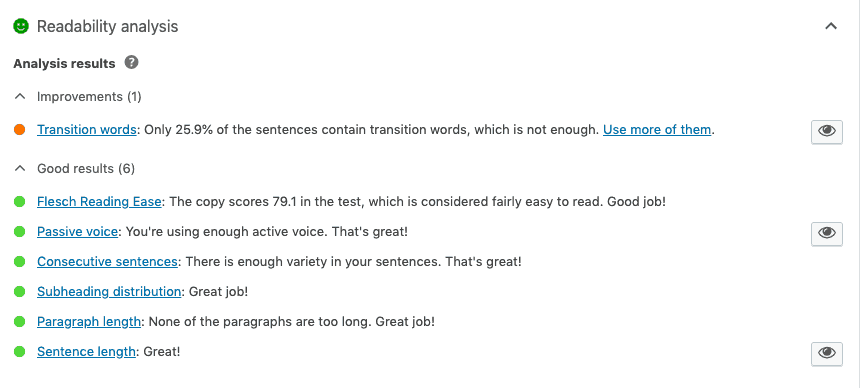 Be sure to review the "Readability" tab in Yoast. You want that to be "Good" as well. Again, Yoast does a great job of providing you with exactly what to do to fix it. To update your meta description, edit the snippet. Additionally, include an SEO-friendly image (I recommend Snappa as a simple tool for creating images). Be sure to link to external (and possibly internal) URLs, and you're ready to publish. Here's the final Yoast SEO assessment of this post: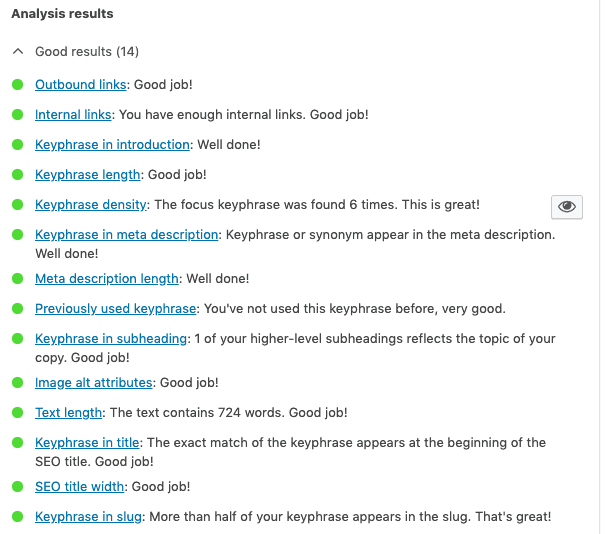 If you need help to write an SEO-friendly blog post process, please feel free to contact me.