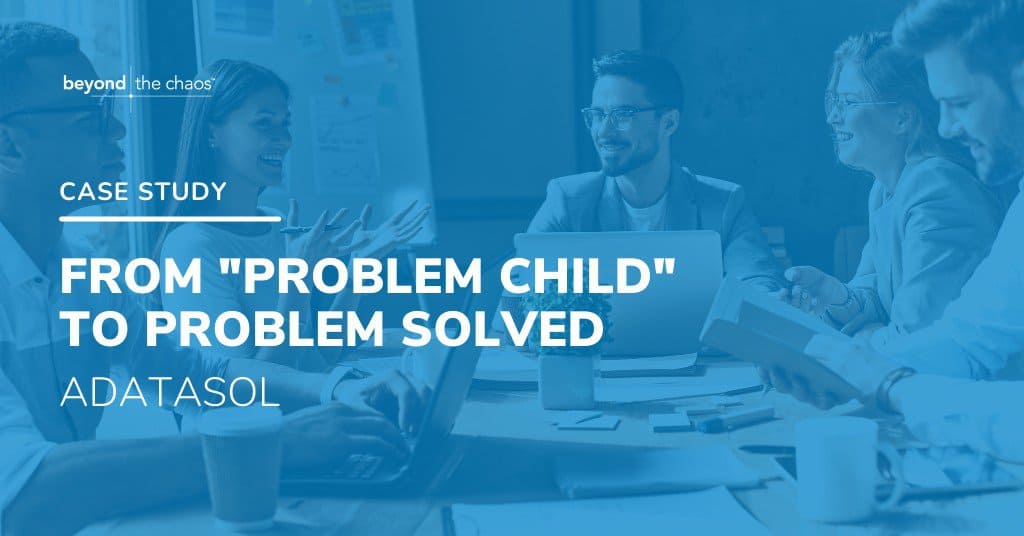 The Problem: A Chaos-Causing "Problem Child"
Adatasol is a software development company that builds SaaS products and custom business software. Aside from general project management needs, Adatasol had a newly acquired business. The business turned out to be a "problem child" that took time away from business operations and caused chaos among the team.
After acquiring the company, it became clear how complicated and outdated the customer support and billing systems were. This created many unproductive hours trying to modernize systems and resolve client conflicts. Adatasol needed to determine what to do with its newest asset.
Should they close the business? Sell it? Let go of clients? The back-and-forth attempts to problem solve were not sustainable or effective. As a result, other areas of business were suffering.
The management team at Adatasol knew they needed a strategic partner to bounce ideas off of and provide options for the best, most profitable solution for their problem. Their weekly meetings lasted two hours on issues that were still unresolved by the end.
David Case, COO, knew this had to stop and approach the situation another way.
The Solution: Difficult Conversation Templates, Support Packages, and Advanced Ticketing Systems
David called on Beyond the Chaos, which helped Adatasol on two fronts: Project Management and Fractional COO.
Project management consisted of establishing processes for workflow, facilitating day-to-day projects, and training the Adatasol team on how to access and implement all information.
Susan, the Fractional COO, brought a calm voice and expertise to lead the Adatasol management team in having difficult conversations and managing conflicts. A few solutions were: organizing support packages for customer service, setting up a new, more advanced ticketing system for queries, and designing crisis management templates to guide difficult conversations.
No matter how broken a system is, there is always a way to fix it.
The Outcome: Consistent Revenue Stream for Adatasol and Peace of Mind for the Team
"We look forward to our management meetings. We want to have them because we can solve issues that are happening. As opposed to always putting out fires, we can wait until [our meeting] for most of the things that come up." – David Case, Chief Operating Officer
Now that Adatasol is beyond the chaos, the company maintains a more consistent revenue stream, takes on bigger projects, and help its clients grow. The positive impact of operational changes allowed Adatasol to improve and then sell the acquired company. It's no longer an anchor weighing down the entire operation.
Along with running EOS, many of the processes and systems developed by Beyond the Chaos were replicated and refined to serve Adatasol in other business areas as they continue to scale.
The team members have experienced much greater peace of mind knowing how to handle future issues. They even enjoy their weekly management meetings! In turn, the business recovered from before the "problem child" conflict took over, creating a much happier, healthier culture.
Before the engagement, management was very involved in the day-to-day operations. As a result, David spent too much time and energy in the weeds of the business instead of working on the business. Now, David has time to build, strategize, and determine what will make the company more efficient. They can focus on determining which departments need extra talent, and on the things that will take Adatasol to the next level.
David's advice? A broken system over many years will cause tremendous tension. If you have something broken in your cycle, take the time to fix it.
Are you looking for creative ways to grow your business with fractional operations consulting and project management? Schedule a meeting today!